5 Benefits of Telehealth: Why It's the Future of Healthcare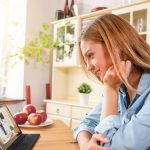 Telehealth is quickly becoming the future of healthcare. According to Statista's study, the overall telemedicine market in the United States is expected to reach $22 billion by 2022. Patients can now consult with their doctors from the comfort of their homes and it's not changing soon.
Telehealth services have many advantages, including cost savings, improved patient outcomes, and increased access to care. If you are looking for a more efficient and cost-effective way to provide healthcare, telehealth may be your solution!
1. Cost Savings
The primary benefit of telehealth is that it can save patients and healthcare providers a significant amount of money. For example, a study conducted by the American Academy of Dermatology found that dermatologists who used store-and-forward technology (a type of telehealth) for follow-up appointments with their patients saved an average of $150 per patient.
2. Improved Patient Outcomes
Telemedicine can improve patient outcomes by providing real-time access to specialists, allowing for more timely diagnosis and treatment. Telemedicine patients had a 30% reduction in hospital admissions and a 20% reduction in emergency department visits.
3. Faster Diagnosis and Treatment
When doctors can see patients virtually, they can make a diagnosis and start treatment faster. Sometimes, patients may get a prescription for medication through telehealth services. It benefits people who live in rural areas or do not have easy access to healthcare. By using telehealth, these patients can get the care they need without having to travel long distances.
Read more: Why Is Telehealth Important for Rural Providers?
4. Greater Engagement of Patients and Families
Doctors on video consultation and virtual care calls can include patients' family members in the conversation more quickly than in an in-person visit. First, it allows loved ones to participate more actively in their care plan and decisions. Second, it can help ensure everyone is on the same page about what's happening and what needs to happen next.
5. Enhanced Quality of Care
Lastly, telehealth can potentially enhance the quality of care that patients receive. Patients with more regular access to their providers are more likely to stay on top of preventative measures and manage chronic conditions effectively. For example, patients with access to regular care via telehealth can receive their screenings for cancer and other diseases.
Sequence Health is one of the best healthcare call centers in the country. We're here to provide you with the latest and greatest in telehealth services. Our team will assist you in getting started with telehealth and help you determine if it's the right solution for your needs.