How to Market Your Telehealth Services: Tips from the Pros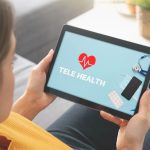 Post-pandemic healthcare consumers' needs and expectations have changed, increasing the demand for telehealth services. Rural areas have been hit the hardest, with patients often traveling long distances for care. It is where telehealth can have the most significant impact.
Read more: Why Is Telehealth Important for Rural Providers?
The telehealth market may grow up to $636.38 billion by 2028 at a CAGR of 32.1 percent. The most common telehealth services are radiology, cardiology, behavioral health, and online consultation.
If you're a healthcare provider looking to get started with telehealth or expand your current services, you need to know how to market your telehealth services.
Here are some tips from the pros:
1. Create a Website Specifically for Your Telehealth Services
A website is a necessity for marketing your telehealth services. It will give potential patients an easy way to learn more about what you offer and how to get in touch with you. Ensure a website is optimized for search engines so potential patients can easily find it when looking for telehealth services in your area.
Some SEO tips for creating a good website include:
– Use relevant keywords in your website content
– Make sure your website is mobile-friendly
– Give easy navigation
– Include testimonials and reviews
– Use high-quality visuals
2. Make a Video Explaining Your Telehealth Services and How They Work
Using video on landing pages can increase conversion by 86%. So, if you're looking to market your telehealth services, one of the best things you can do is create a video explaining what they are and how they work.
Not only will this help potential patients understand what you're offering, but it will also show that you're a forward-thinking, modern practice that's keeping up with the latest trends in healthcare.
3. Use Social Media To Promote Your Telehealth Services, Including Paid Advertising Campaigns
Social media platforms like Facebook, Twitter, and LinkedIn offer a cost-effective way to reach out to potential patients and promote your telehealth services. You can use social media to share blog posts, articles, and other content that will help educate patients about the benefits of telehealth. You can also use social media to run paid advertising campaigns that target specific demographics.
When it comes to paid advertising, use keywords that patients are likely to search for when looking for telehealth services. Remember, tracking your results is essential to see what's working and adjust your sample telehealth business plans accordingly.
4. Leverage Email Marketing
Your email list is one of the valuable marketing assets. Ensure you're leveraging it to its fullest potential by promoting your telehealth services to your subscribers.
Consider creating a dedicated email campaign highlighting telehealth's benefits and how your services can help them. You can also include testimonials from satisfied patients to help build trust and credibility.
Sequence Health offers the best healthcare advertising and marketing services. Our experts will help you with every step, from planning to execution.