A Healthcare CRM that supports your every need when it comes to tracking and engaging your patients.
Today's Problem:
Today's enterprise Healthcare EMR or patient tracking systems do not provide you with the flexibility and configurability needed to effectively manage your day-to-day patient encounters. You are having difficulty understanding where all of your patients are in their care pathway. At the same time, your enterprise EMR is the central hub for all patient medical data collection as well as billing.
But, you didn't sign up to be a data entry clerk as part of your life's ambition.

Our Solutions:
Our patient tracking CRM integrates seamlessly with your program's EMR as well as your website. You now have a full suite of patient engagement tools which integrate your healthcare digital marketing efforts with lead intake, conversion to patient and care pathway management which is unparalleled in the healthcare industry.
Our platform is a state-of-the-art patient tracking software tool that integrates seamlessly with your healthcare enterprise EMR and website through real-time HL7 and CCDA HIPAA compliant data exchanges. Now you finally have the flexibility in a system that will support your every need.
A potential patient can start their intake process through your website, fill out any required forms, schedule an appointment and be ready to be seen in your office without a single phone call.
At any stage in the patient care pathway, you can easily communicate with your patients by text message, secure e-mail or by phone.
On a single screen, you will see all your patients and the associated step of care they are in. You will see how long they have been in that step and what actions need to be completed for them to move forward. You also have the ability to see a patient's steps of care across specialties with our CRM's integrated care pathways.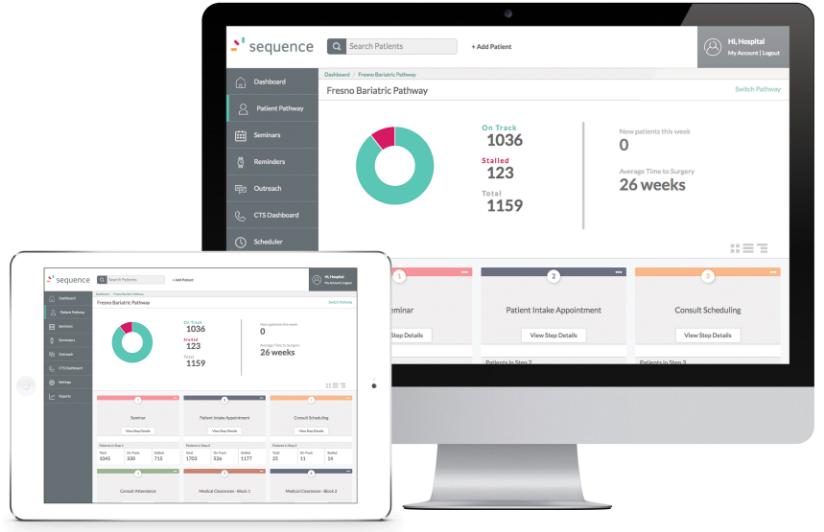 With our healthcare CRM, your office staff can be assigned to a step of care where they are able to focus specifically on their patients. Your staff will have access to innovative tools which increase patient satisfaction and office efficiencies.
None of the healthcare CRM companies out there offer CRMs that do what ours does. This is the go-to CRM for doctors in any specialty. Sequence Health's powerful healthcare CRM integrates your marketing efforts with lead intake, conversion to patient and care pathway management.
FAQs About Healthcare CRM/EMR Integration