Bariatric Medical Practice Marketing Rules #1: Know Your Numbers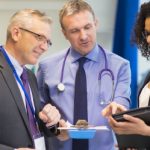 The First of a Four-Part Series of Advice for How to Grow Your Bariatric Practice
We regularly speak to many bariatric programs across the country, and we often hear how difficult it is to manage the day-to-day operations while keeping up with the hundreds of patients that are on their journey to bariatric surgery.
Yet, no matter how many patients they have, nearly all want or need to increase their bariatric patient volumes. That is why we are frequently asked a simple but important question: "How can I get more patients and grow my bariatric practice?"
Although there are no simple answers, we have been able to boil them down into four key rules that we explore in one of our most popular presentations, Four Key Strategies to Grow Your Bariatric Program.
Which leads to the first rule: Know your numbers. Here is what we mean by that.
What are Your Numbers? Where are They?
Bariatric practice marketing is a numbers game you can play best if you have a firm grasp on your data. Otherwise, it is virtually impossible to develop strategies and gauge their effectiveness if you don't know where you stand.
Let's start with some basics like:
• What are your conversion rates from lead to surgery?
• What is your average time to surgery?
• Which steps in the prospect-to-patient continuum are taking the longest?
• Where are patients falling through the cracks?
Now ask yourself:
• How quickly could you produce those numbers for analysis?
• How simple would the process for accessing them be?
• How reliable would the data you retrieved be?
The last set of questions can be as telling as the first set. We've found the bariatric practices that can easily and accurately track their patient marketing, acquisition, management and engagement are almost always the most successful practices.
Learn From Your Numbers
Knowing about your bariatric practice's numbers is only the beginning. Once you've established an efficient process for monitoring your bariatric marketing efforts and collecting data, you next want analyze your numbers and starting learning from them. And what better way to learn is there than to ask questions?
Here is where we divide our focus into two primary areas, each with their own sets of unique questions. For how many of these can you produce answers? Do any spark insights into where your bariatric practice marketing is underperforming?
Bariatric Marketing and Patient Acquisition
• What is the conversion path of our marketing efforts?
• How many conversions resulted from the campaign?
• What is my cost per lead?
• How many surgeries resulted from the campaign?
• What is my cost per surgery?
• What payor mix is my marketing campaign driving?
• What is my most effective marketing medium?
• What is my least effective marketing medium?
• Of the surgeries we've performed, where did those leads come from?
Bariatric Patient Engagement and Management
• What is my conversion rate from lead to seminar registration:
• …from seminar registration to attendance?
• …from seminar attendance to consult?
• …from consult to surgery?
• What is my overall conversion rate from lead to surgery?
• What is the average throughput for each of these milestones?
• Where are patients falling through the cracks?
• How long have patients been in each step?
• What clearances need to be completed in order to have surgery?
---
As Sequence Health's Central/Western Regional Director, Chris Stearns regularly engages with bariatric medical practices to find solutions that help grow their revenues and profitability.
Sequence Health is a cloud-based technology and services company that improves profitability and patient outcomes for hospitals and practices through end-to-end patient engagement solutions backed by clinical and non-clinical teams. Its HIPAA-compliant, SaaS platform improves care team workflows, automates patient communication and tracks patient progress to optimize the patient journey. Since 2004, leading healthcare providers have trusted Sequence Health to help acquire, manage and engage patients through complex episodes of care.