Best Free and Low Cost Ways to Promote Your Medical Practice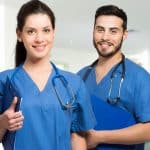 Marketing your medical practice is one of the most important things you can do to help grow your patient volumes. By increasing your visibility online, you're able to be found by those looking for you, be seen by those who are interested, and be known by those who wish to tell their loved ones. No matter which of the types of medicine practices you run, your practice will benefit from medical marketing.
Unfortunately, simply buying ads and hoping for the best can be a very expensive strategy. In this article, you'll learn about the best low-cost ways to grow your practice using these medical marketing strategies.
6 Low Cost Ways To Promote Your Medical Practice
Google My Business
Google My Business is a free service provided by Google that allows you to put your business's info on the search engine, even if you don't yet have a website. This allows you to be found on Google Maps and is one of the ways Google identifies which businesses are where.
To set up Google My Business, simply go to this link and follow the instructions. You'll need to verify your business's information. We recommend checking out this guide to Google My Business optimization.
Interact On Social Media
Everyone knows that having a social media presence is important, but it's not just about making content and posting it. You also want to be interacting regularly with your community.
Not only should you be growing your following with content, using your social media profiles to comment on and share content created by people in the community is a great way to make your brand known.
Email Marketing
Even in this age of Whatsapp and instant messaging, email is still a powerful primary mode of communication for people. By using emails to let people know about events, initiatives, and appointment reminders, you can make sure that your patients always keep you at top of mind.
Be careful with your marketing communications, though. You'll still have to remain HIPAA compliant and there's certain data that you simply cannot use for marketing purposes.
Search Engine Optimization
Search engine optimization is the process of making your website easy to find on search engines. Investing in a SEO company can seem expensive, although it doesn't need to be. You could also have an in-house marketing specialist do your SEO, however if they're not already well-versed in SEO it will take longer to get results.
Local Events and Organizations
By being a part of your local chamber of commerce or board of trade, and by actively participating in those events, you can get your practice's brand out there and be an effective face for the brand while you do.
You can also sponsor some events. Although this can be expensive, sponsoring smaller events can be a low-cost way to effectively market your practice.
Offer Excellent Service & Ask For Reviews
Your online reputation is a key part of your digital marketing efforts. By offering an excellent patient experience, people will be more likely to give you a glowing review online.
However, most people will not review a place without a reason, and usually, that reason is a negative one. So it's up to you and your staff to be upfront with asking for reviews. Do so in your email communications and make it part of your normal processes.
Sequence Health provides patient engagement solutions, including healthcare digital marketing, EMR integration, and more.