CDC releases new map of obesity in the U.S.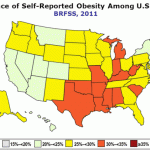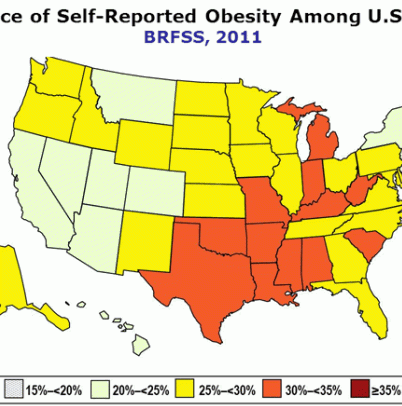 The Center for Disease Control has released the results of a 2011 obesity survey and an updated map of obesity in America by state.
The newly released obesity map shows a wide range of the prevalence of obesity across America. Colorado was the state least affected by obesity with 20.7% of its residents considered obese; Mississippi was the most with 34.9%. At least 39 states had a prevalence of 25% of obesity affecting its residents, with 12 of those states having 30% or more. By region, the South was affected the most by obesity, followed by the Midwest, the Northeast, and the West being least affected. Also to be noted is that no state had less than a 20% obesity rate.
The statistics reflect a telephone survey conducted by the CDC as a part of its Behavioral Risk Factor Surveillance System. Though, the CDC was quick to point out that the statistics found from the 2011 survey could not be compared to years past due to a change in the way they collected the data.
Alhough we can't draw conclusions from last year, it's plain to see that obesity is a growing epidemic, and high-priority public health issue. MDnetSolutions supports the efforts of bariatric surgeons across the U.S. in fighting this disease. We offer various business solutions, including a stateside medical call center, patient outreach, patient information management, lead tracking, and practice marketing services. To learn more about how our services can help our bariatric practice, call us at 888-986-3638 or email [email protected].