Creative Marketing Ideas for Healthcare Organizations in 2021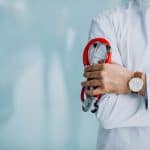 Medical marketing strategies vary widely, from using SEO and content marketing to traditional TV and newspaper advertising. Despite this, the game is always the same. The goal of successful medical marketing is to help others see your practice or hospital's brand in a good light, while also reaching those who may be in need of your services so that they will choose you over the competition.
So what kind of creative marketing ideas can you use for your healthcare practice in 2021? Here are a few that you can try.
Creative Medical Marketing Ideas
Host a virtual community event.
The COVID pandemic is still upon us and many places continue to be locked down. Community events have slowed down considerably, but the community is still there. Why not host a virtual community event to spread the word about your hospital or practice?
Virtual community events can be focused on health education, such as an information session about how to exercise and eat healthy during the pandemic, or about risk factors associated with COVID-19. This way, you can continue to play a role in your community even when community events aren't going on.
Start and grow a TikTok account.
TikTok has grown dramatically in recent years and people of all ages are on it. By starting and growing a TikTok account, you can get in front of all types of people and get the word out about your practice.
One benefit of having a TikTok account is that you can create content either for people in your local area, or for people around the world. Whatever you want to focus on, you can.
One tip for TikTok: take advantage of trending hashtags. This isn't too different from other social media, but trends aren't just about hashtags: they're about the content itself. By including trending songs or topics, you can take advantage of traffic that's already there.
Showcase your latest technology on YouTube.
People love novelty, and showing off the kinds of technology that your practice uses can be a great way to generate interest on YouTube (and even TikTok and other platforms).
Show off your new robotic surgery capability. Make videos showing how your robotic vacuums and mops clean the halls of the hospital. Take a video of your latest medical devices. The novelty will be both an attraction and a marketing strategy: your practice is on the cutting edge of medical technology and your videos can show it.
Sequence Health is a provider of patient engagement solutions for practices of all sizes. They provide medical online marketing services and strategy for healthcare businesses.