What Can Hospital Call Center Practices Reveal About Quality?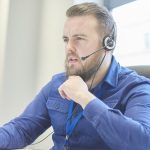 Frequently Overlooked, a Medical Call Center's Best Practices Can be One of the Most Accurate Indicators of Its Capabilities and Priorities
If you've been in the market for an outsourced hospital call center vendor and have been doing online research, you've probably seen some Web pages, articles and blogs that talk about hospital call center best practices.
If so, it's likely you didn't give them much attention, and for good reason: That type of content tends to be geared for people that operate in-house medical call centers rather than those looking to partner with an outbound call center.
Instead, hospital call center marketing content more often focuses on its key advantages for customers and its positive performance metrics. There's certainly nothing wrong about that. Actually, it pretty accurately describes what's on our medical call center service page!
Still, learning about a medical call center's best practices can provide some remarkably useful insight into what it can really do for you, especially if you have a smaller practice or specialized service line like bariatric surgery.
Why?
It is because a hospital call center best practices represent the standards a vendor has for all its customers.
The challenge is to find this information, which is why I'm sharing two of our own medical call center best practices to give you a better idea of what all this means.
Best Practice #1: Create a Seamless Patient Experience
A patient should consistently have the highest quality experience, no matter whether they speak to somebody in your office or to somebody in our call center.
A tremendous amount of trust is required for a medical practice to let call center agents not only speak for them, but to speak as them when answering calls from patients. This becomes even more precarious when the call center needs access to patient electronic health record (EHR) systems for scheduling appointments.
That is why we are routinely refining our solution sets for capturing specific scripting and scheduling protocols. That information is used to create a granular process flow that guides our agents through every step when they are speaking with a patient on the phone.
We also ensure that our agents are highly-trained to perform as if they were hired for an in-house call center—which typically means knowing the EMR system the client uses. Nearly all of our clients use a cloud-based or other type of secure system, which enables us to remotely log-in to their system to assist with patient scheduling during calls.
Best Practice #2: Optimize Efficiency
A hospital call center's speed and accuracy directly impact patient acquisition and patient retention rates.
Every call counts. There's ample evidence that missed calls translate into lost opportunities to schedule appointments with new and existing patients.
It's great to be ready for call volume spikes by having in-house or outsourced agents at the ready, but that's not always an economically sound strategy.
Instead, it's better to anticipate when they will happen. We regularly analyze call volume data to identify trends in call volumes, which helps us better coordinate optimal solutions for our clients.
But there's much more to providing seamless and efficient patient experiences than answering calls quickly.
When call volumes spike and the pressure is on, the chances to mishandle calls increase—and that's only if the caller doesn't get impatient if their calls are not answered in what they consider to be a reasonable amount of time.
This is where accuracy becomes crucial, and it is why we get granular with following a client's specific protocols. For example, if we know certain doctors only treats certain conditions on certain days—and only accept certain insurance—we can more efficiently schedule the patient. Not only is the patient satisfied because his or her needs were met quickly, but the call center agent can more swiftly return to other calls.
Together, these two hospital call center best practices support our goals to be more than a hospital answering service and to help our clients enjoy better financial rewards via better patient outcomes.
---
As Sequence Health's Central/Western Regional Director, Chris Stearns is one of our key healthcare IT experts.
Sequence Health is a cloud-based technology and services company that improves profitability and patient outcomes for hospitals and practices through end-to-end patient engagement solutions backed by clinical and non-clinical teams. Its HIPAA-compliant, SaaS platform improves care team workflows, automates patient communication and tracks patient progress to optimize the patient journey. Since 2004, leading healthcare providers have trusted Sequence Health to help acquire, manage and engage patients through complex episodes of care.