How Do Healthcare Call Centers Differ From Traditional Call Centers?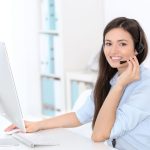 Customer service is the key to any successful business, and healthcare call centers are no exception. Like any other company, healthcare organizations must provide exceptional customer service to keep their patients engaged and satisfied.
Read more: How To Use Healthcare Call Centers To Provide A Better Patient Experience
But how do healthcare call centers differ from traditional call centers? Here, we explore the key differences between the two.
What Is a Healthcare Call Center?
Healthcare call centers offer a variety of services that are tailored to the needs of healthcare organizations. These services may include:
1) Patient Access
Patient access is becoming increasingly important as hospitals and clinics become more complex. Healthcare call centers support this service by managing incoming patient calls, scheduling appointments, and helping them navigate their care needs.
2) Scheduling & Appointment Management
Healthcare call centers provide a centralized appointment management platform to streamline the process for healthcare organizations and patients. They can also help patients with pre-registration and check-in and manage appointment reminders.
3) Patient Support & Education
Healthcare call centers provide additional support to healthcare organizations by helping patients understand their care options, providing education on medical conditions, and assisting them with planning follow-up appointments.
4) Clinical Assistance
Patients suffering from chronic conditions or other health issues may require additional care and clinical assistance. Healthcare call centers can support organizations, helping them manage patient cases, triage incoming calls, and answer medical questions.
5) Billing and Collections
Healthcare centers handle billing and collections differently than traditional call centers. You get friendly customer service agents who understand the healthcare system and can help guide patients through their financial obligations. This helps ensure that medical bills are managed accurately and efficiently, which is essential to the patient and the healthcare provider.
How Are Healthcare Call Centers Different Than Traditional Call Centers?
There are some critical differences between healthcare call centers and traditional call centers. These include:
1) Metrics
Healthcare call centers put a greater emphasis on the quality of care provided by agents. Instead of simply tracking metrics such as average call time, healthcare call centers are more focused on measuring customer satisfaction and patient experience outcomes.
2) Technology
Healthcare call centers often use more sophisticated technology to facilitate better customer service. This includes automated tools for scheduling appointments, managing medical records, and providing personalized patient care.
3) Knowledge Requirements
Traditional call centers may require only basic customer service knowledge from their agents. On the other hand, healthcare call centers demand more specialized knowledge from their agents since they handle sensitive health-related inquiries or data. Agents need an understanding of healthcare terminology, insurance plans, and medical records.
4) Privacy
Healthcare call centers are often subject to privacy regulations such as HIPAA. Agents must understand the importance of protecting patient confidentiality and be able to recognize and respond appropriately to potential security breaches. HIPAA is a set of federal regulations governing private health information collection, use, and disclosure.
Contact Sequence Health for the best healthcare call centers. Our call center representatives are dedicated to providing you with the help and answers you need. Our team is knowledgeable and experienced in healthcare, so you can rest assured that we can assist you with any questions or concerns.