How HIPAA Compliance Works In Health Call Centers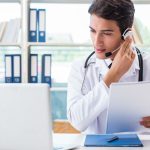 When it comes to healthcare call centers, compliance is of the utmost importance. Whether a company you work with provides call forwarding, answering a service's appointment setting or more, then you need to adhere to all laws and regulations.
The final omnibus rule of HIPAA stated that all service providers that work with protected health information (PHI) directly or indirectly are liable for data breaches.
Therefore you should only work with call centers that comply with HIPAA to avoid patient breaches of privacy, fines, legal problems and other organizational threats.
On the other hand, when complying with HIPAA, call centers can also help streamline your communication flow, health care, center operations and of course levels of patient satisfaction.
That being said, in this article we will discuss in more detail how call center HIPAA compliance works and why it's so important. That way you can promote the best outcomes for your health care firm and patients.
Additional Information: Call Center Patient Feedback
Methods Call Centers Use To Remain Compliant
Texting
HIPAA compliant texting solutions can be used by call centers to reach out to patients without running the risk of violations.
Using the call center's private communications network, secure messaging apps are employed that require access codes to view. This keeps private health records and data from being shared or accessed inappropriately.
From within this authorized network, only users with the right clearance levels can share documents, files, images, or other information related to patients. Thus, there are safeguards in place to prevent PHI from being transmitted outside of the network.
Of course, using cloud-based technology, there are redundant backups of this information to be used in appropriate contexts within your medical staff protocols.
Encryption
All communications adhere to NIST standards. That means undecipherable, unreadable, or unusable information is the standard if any of this information were to be intercepted, such as a public Wi-Fi network.
Additionally, if one of the users has their device stolen or accessed, a PIN would be needed to unlock and authorize access to the information.
Lifespans
Messages have an expiration date or a lifespan. This means that messages will be removed from the computer or device after a certain period of time or after the application times out.
Learn More About HIPAA Call Center Compliance
Reach out to Sequence Health today. Our experts can advise you on how hiring our health call center can act as an extension of your medical center. Instead of phones ringing off the hook and patients experiencing longer wait times, automate your entire process.
Allow us to handle your appointment scheduling, outbound calls, inbound calls, patient care coordination and more. So reach out for a free consultation reach out for a free consultation today and learn how we can help you maintain compliance while streamlining your medical practice.