How to Improve Medical Call Center CSAT Scores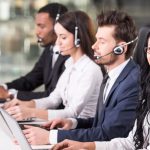 When it comes to health call centers, customer service is critical. And the CSAT score is one way to gauge how successful your phone operations are in meeting patients' needs.
Any quality assurance measure aims to improve the level of service, understanding, and results. However, it is necessary to implement tracking measures so that performance can be measured on an individual basis across all of the agents in a call center.
So in this article, we'll explore how to improve CSAT scores in call centers. The higher the score, the better you're doing. The lower the score, the more improvements that need to be made.
What is a CSAT score in customer service?
In short, CSTAT means customer satisfaction. And as you might have guessed, the CSAT score is a way to measure that customer contentment with your health practice.
More specifically, a CSAT score for a call center represents how well the call center agents overall are meeting the needs of patients.
How To Calculate CSAT In Call Centers
After a conversation with a support agent from the healthcare call center, a survey is sent to that customer or patient.
This survey is meant to garner feedback by asking questions such as:
How would you rate your experience with our support?
How would you rate your experience with our healthcare center?
Are you likely to recommend our health services to others?
How easy was it to find our location?
How easy was it to navigate the website?
Was our staff knowledgeable and friendly?
How would you rate our services from 1 to 10?
Do you feel like you received all the help you needed at our medical center?
Is there any extra feedback that you have?
Once the patient provides their survey response, their satisfaction will be calculated. For instance, if each question was given a scale from 1 to 5, then the answers would be considered positive, neutral, or negative as follows:
1 or 2 – negative
3 – neutral
4 or 5 – positive
Thus, you can arrive at a CSAT score formula by dividing the total number of positive responses by the total number of responses multiplied by 100.
So for instance, if there were 7 positive responses out of 10 total responses, the CSAT score would be 70%.
At the end of the survey, the call center can also ask open-ended questions to allow for the patient to provide feedback that was not available via the preset survey questions.
Net Promoter Score (NPS)
The net promoter score is a similar customer satisfaction measurement. The net promoter score focuses on loyalty in addition to satisfaction alone.
The results of an NPS survey are more binary. On a rating scale of 1 to 10, any answers that are below a 6 are considered detractors. Promoters are people who answer a 9 or 10.
How To Improve CSAT Scores In Your Call Center
CSAT score improvements include comprehensively solving the patient's problem, proper escalation protocols for the right person, following up consistently, and quick response times.
Now let's talk about some other specific ways that you can improve CSAT scores:
1. One-On-One Communication
Despite the rise of technology, many people still want to speak with somebody one-on-one. This can happen via email messaging or over the phone.
It makes them feel like they're truly heard. Contrast this with simply getting an automated message from a chatbot AI.
2. Monitoring The Right Metrics
Data is power when measuring customer satisfaction. A call center should understand how to address key KPIs such as AHT (Average Handling Time), average first response time, and personableness of call center agents.
3. Enhance Performance With Key Technologies
While it's true that one-on-one communication is sometimes the best way to go, technology is important as well.
In today's day and age, the additional costs and time required to send automated messaging and provide AI-assisted service is minimal. It should be considered as an addition to your full service offering for scalability reasons.
4. Reviews
Continue to review CSAT scores and understand what areas need the most improvement. Take action items every quarter to ensure that your call center is leaving patients satisfied.
5. Reduce The Dead Air Ratio
Dead air means that there are elongated periods or pauses in which the customer simply hears silence. Patients today are very impatient, so the less dead air time that you can create with your call center systems, the more satisfied they will be.
Improving Your Healthcare Call Center CSAT – Conclusion
Reach out to Sequence Health to understand how our medical call center solutions can help your medical care facility. From appointment scheduling to patient care coordination to insurance verification to inbound calls, our staff is highly trained in patient satisfaction.
Focus on achieving the best health outcomes for your patients while allowing our experts to provide a streamlined form of communication and customer service for all their needs.