How Your Orthopedic Clinic, Hospital or Surgery Center Can Support Juvenile Arthritis Month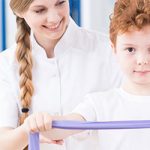 The painful and frustrating condition of arthritis is often associated with the elderly, however, it affects people of all ages—including children ages 16 and younger. And although arthritis treatment is most often associated with rheumatology, orthopedic surgery is one of several solutions for arthritis.
Since orthopedic surgery is one of the specialties for which our patient management platform is tailored, we want to encourage you to support Juvenile Arthritis Month in July 2017 and expand awareness about your orthopedic clinic, hospital or surgery center, especially if it offers juvenile arthritis surgical treatments.
Linking Orthopedic Surgery With Juvenile Arthritis (JA)
According to the Arthritis Foundation, juvenile arthritis (JA) is not a disease, but instead, "an umbrella term used to describe the many autoimmune and inflammatory conditions or pediatric rheumatic diseases that can develop in children under the age of 16," including an estimated 300,000 children in the United States alone.
The Arthritis Foundation also explains how there are multiple types of orthopedic surgery solutions for arthritis, which include:
• Arthroscopy
• Joint Resurfacing
• Osteotomy
• Synovectomy
• Arthrodesis, or Fusion
• Total Joint Replacement (TJR), or Total Joint Arthroplasty
• Minimally Invasive TJR
• Joint Revision
Therefore, if your orthopedic surgery center offers one of these joint procedures, you probably have already treated patients with juvenile arthritis, which perfectly positions you to explore opportunities to support Juvenile Arthritis Month while also increasing your orthopedic patient acquisitions.
Share Your Patients' Positive JA Orthopedic Surgery Outcomes
Candidates for orthopedic surgery and their families are always eager to find both hope and confidence in their orthopedic clinic, which means they will likely turn to the Internet to find answers. As such, your Website is a superb way to share how your orthopedic clinic's patients had positive results and outcomes.
Testimonials—written or video—are the natural place to start, especially if they can support your orthopedic surgery center's mission and vision statements for providing high standards of compassionate care.
Better yet, case studies that deliver more in-depth exploration and validation of your juvenile arthritis orthopedic surgery outcomes is an excellent way to present your orthopedic surgery center as a viable and trusted solution.
Go On the Record—and Beyond—as a Juvenile Arthritis Monthly Advocate
Publishing a news release that explicitly states your orthopedic surgery center's advocacy for Juvenile Arthritis Month is a solid first step in publicly stating your support.
But don't stop there! If your orthopedic surgery center or its surgeons, doctors and nurses are members of organizations that also advocate for JA, consider reaching out to those groups to ask for their support and to offer yours. This is particularly true if you can make a donation!
Use Social Media
Along with using social media to share and find useful information related to Juvenile Arthritis Month (including trending hashtags like #StrongerThanJA and #KidsGetArthritisToo), it's also an excellent opportunity to expand your orthopedic hospital's social networking.
For instance, if you don't already, here are some worthy Twitter accounts you might want to follow:
• @ArthritisFdn, the official Twitter page for the Arthritis Foundation
• @JAAssn, the official Twitter page for the Juvenile Arthritis Association
---
Sequence Health proudly supports Juvenile Arthritis Month.
Sequence Health is a cloud-based technology and services company that improves profitability and patient outcomes for hospitals and practices through end-to-end patient engagement solutions backed by clinical and non-clinical teams. Its HIPAA-compliant, SaaS platform improves care team workflows, automates patient communication and tracks patient progress to optimize the patient journey. Since 2004, leading healthcare providers have trusted Sequence Health to help acquire, manage and engage patients through complex episodes of care.