Why Long-Term Patient Engagement Tools Are Worth It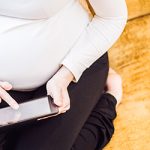 Key Advantages Include Improved Patient Management and Outcomes
As a provider of patient engagement tools, we were a bit dismayed when we read the NEJM Catalyst article, "Patient Engagement Survey: Technology Tools Gain Support—But Cost Is a Hurdle."1
Although we appreciated its findings for why healthcare decision-makers and stakeholders believe long-term patient engagement tools can deliver many benefits, we weren't as certain about the findings about cost and other barriers.
We know they are worth it. But, don't take our word for it!
Before we look at the NEJM Catalyst survey data, let's first look at some real-world examples of where patient engagement tools have proven to be invaluable to both healthcare providers and patients.
Getting Great Results with Patient Engagement Tools: The Walgreens Reports
"Consumers are increasingly more engaged in their own healthcare and wellness. Digital technology that enables easy data tracking of healthy behaviors—combined with incentives and trusted professional support—provide additional motivation for our customers to more easily manage their health."

Harry Leider, M.D.

Chief Medical Officer for Walgreens
Some of the reports Walgreens has published in recent years attribute their use of patient engagement tools to better-than-average patient satisfaction and outcome scores. Two were particularly noteworthy.
The first was their 2013 case study, Measuring Performance in Delivering Quality Care.2 In it, they linked "strong engagement levels" with "[Healthcare Effectiveness Data and Information Set] scores that were significantly above national HEDIS benchmarks" for three commonly treated conditions. Their key engagement measures included:
• The amount of time care providers spend with the patient
• Effective listening and attention from the provider
• Clear explanation of health matters by the provider
Walgreens said patient engagement tools produce positive results because they help patients improve:
• Personal ownership in their care regimen
• Compliance with taking their medications as prescribed
• Likelihood to follow doctor's orders through to a strong recovery and better long-term health
• Loyalty to a care provider—which results in returning as needed for follow-up care and recommending the care provider to friends and family
The second came in 2016 when they published findings that supported their belief "automated health tracking can significantly improve long-term health engagement."3
This time, they analyzed "Walgreens Balance Rewards for healthy choices® (BRhc)…a self-monitoring program that allows members to [automatically] track health activities and receive incentives for continued tracking and healthy behaviors." Compared to participants that manually tracked their activities, BRhc users engaged four times longer and averaged 20 weeks of participation.
Neither of these reports mentioned anything about cost or why Walgreens might have been hesitant to embrace and develop patient engagement tools. Instead, they seemed to be confident in the potential benefits and satisfied with the positive results.
So, Where's the Problem with Costs for Patient Engagement Tools?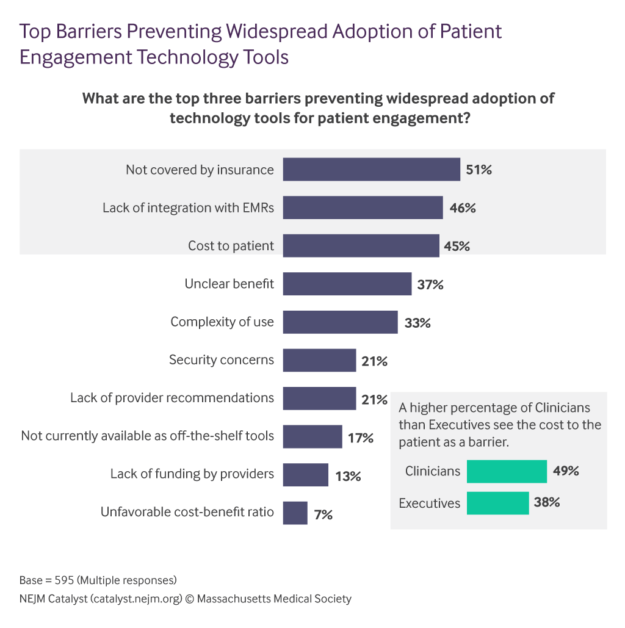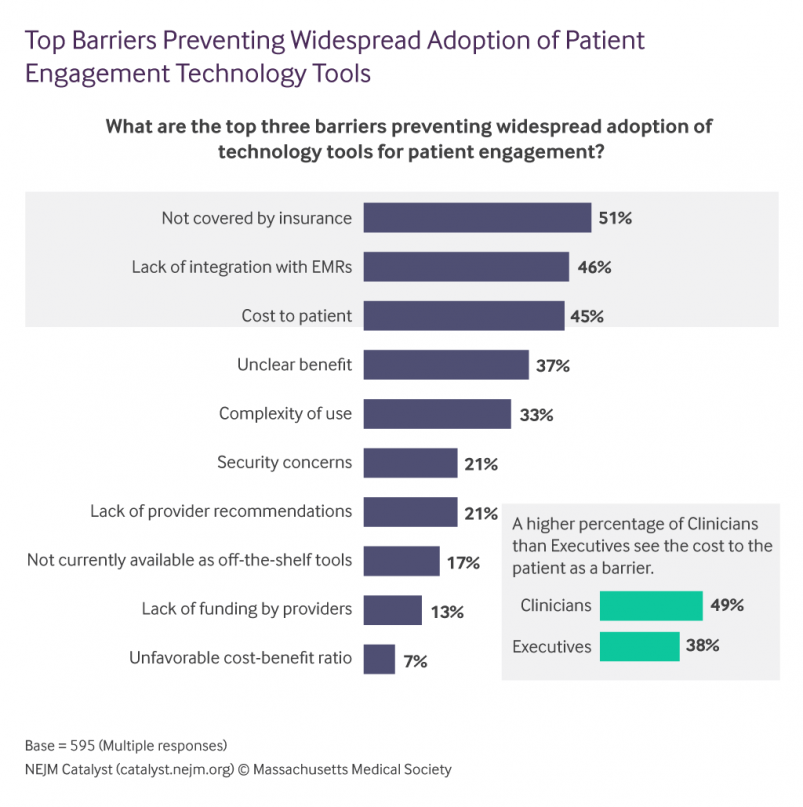 The NEJM Catalyst survey asked executives, clinical leaders and clinicians what they thought were the top three benefits of using digital patient engagement tools. The highest-rated benefits included:
• Supporting patients in efforts to be healthy (67%)
• Providing input to providers on how patients are doing when not in clinic (60%)
• Create ecosystem that allows for better predictive analytics around patient health and more timely intervention (51%)
One takeaway is that there is the belief patient engagement tools do have some practical advantages. If there's a barrier for their widespread adoption, it must be cost, right? Isn't it always?
Although the NEJM Catalyst article's title clearly indicates cost is the problem, its data isn't as clear. In fact, if you ignore the four barriers that are cost-related, you are left with six that are either:
• Highly subjective: Cost-related barriers like "not covered by insurance" or "lack of funding by providers" are easy to accept and hard to dispute. But others like "unclear benefit" and "complexity of use" have nothing to do with "cost" and are easily refutable…case in point: the Walgreens examples!
• Easily solved: If "lack of provider recommendations" and "not currently available as off-the-shelf tools" are barriers, you can trust that makers and sellers would change that very quickly if they truly believed they were the main reasons their products were not selling! Again, neither of these are cost-related barriers.
For both individuals and industries, cost is always a factor in adopting new technologies—early adoption is often an expensive and scary endeavor. However, digital patient management tools may always be evolving, but they are not new…and we're well past of not having confidence in them because of cost.
---
Sequence Health is a cloud-based technology and services company that improves profitability and patient outcomes for hospitals and practices through end-to-end patient engagement solutions backed by clinical and non-clinical teams. Its HIPAA-compliant, SaaS platform improves care team workflows, automates patient communication and tracks patient progress to optimize the patient journey. Since 2004, leading healthcare providers have trusted Sequence Health to help acquire, manage and engage patients through complex episodes of care.
1 Patient Engagement Survey: Technology Tools Gain Support — But Cost Is a Hurdle
2 Measuring Performance in Delivering Quality Care
3 New Research from Walgreens and Scripps Translational Science Institute Demonstrates the Value of Automated Health Tracking