Easy Patient Engagement Tips for Women's Health Clinics During National Breast Cancer Month, October 2017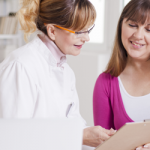 If you are responsible for patient engagement or marketing at a women's health clinic, there are two things that are probably true:
1. You spend a lot of time with finding creative ways to get your patients to schedule appointments for breast cancer screenings.
2. You are among the very last people that need be reminded October is National Breast Cancer Awareness Month (NBCAM).
Because NBCAM is among the most successful of the many national health awareness months, it may be reminding some of your women's health patients to schedule breast cancer screenings—especially if it's been awhile since they've had one.
For your other patients that are not getting the NBCAM message, now is the ideal time to take advantage of some excellent resources to improve your women's health patient engagement now and throughout the year!
Get Free Content and Marketing Ideas from Breast Cancer Awareness Organizations
NBCAM's supported by multiple organizations is one of the reasons why it is so effective at creative awareness. Many offer free content and resources to easily integrate into your women's health patient engagement and marketing strategies. Among them are:
• American Cancer Society: The ACS offers some useful PDF downloads that provide statistics, information about causes, risks, prevention, detection, diagnosis and more. You can use this highly-qualified information to supplement other content you use to engage patients.
• Susan G. Komen Foundation: The Foundation's Tools & Resources page lists more than a dozen links to resources that give you serious food for thought.
• National Breast Cancer Foundation: If your women's health clinic has the financial capabilities, the NBCF National Mammography Program can partner with you to provide free mammograms and diagnostic breast care services to underserved women. This is an excellent public relations opportunity to create exposure for your clinic.
• U.S. Department of Health & Human Services: The HHS' Healthfinder.gov page for NBCAM serves up superb free content for your newsletter and social media feeds.

Loading ...
Use Social Media for Women's Health Patient Engagement
If you aren't yet using some of the more popular social media technologies—such as Twitter and Facebook—to engage with your patients, let NBCAM be your introduction!
As mentioned previously, Healthfinder.gov's page for NBCAM gives you free content to use in Tweets.
Another way to engage your women's health patients (and to attract other followers to your social media accounts) is to share or retweet interesting content. Start with following Twitter accounts for the same organizations mentioned earlier:
• @AmericanCancer (American Cancer Society)
• @SusanGKomen (Susan G. Komen Foundation)
• @NBCF (National Breast Cancer Foundation)
• @healthfinder (HHS Healthfinder.gov)
Finally, don't forget the hashtags for both adding to your Tweets and to find other relevant content!
• #nationalbreastcancerawareness
• #nationalbreastcancerawarenessmonth
---
As Sequence Health's Central/Western Regional Director, Chris Stearns is not only one of our healthcare IT experts, but he also provides specialized focus on Orthopedic Surgery and Women's Health.
Sequence Health is a cloud-based technology and services company that improves profitability and patient outcomes for hospitals and practices through end-to-end patient engagement solutions backed by clinical and non-clinical teams. Its HIPAA-compliant, SaaS platform improves care team workflows, automates patient communication and tracks patient progress to optimize the patient journey. Since 2004, leading healthcare providers have trusted Sequence Health to help acquire, manage and engage patients through complex episodes of care.