Steps To Reduce Wait Times In Call Centers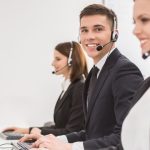 When it comes to health care call centers, there are several things that you need to do to improve. After all, it's an extension of your team and your medical facility.
However, it can be difficult sometimes to reduce hold times for inbound calls. Whether you're looking to verify insurance, schedule an appointment, answer questions, or get testimonials from patients, it's important to minimize your call times.
Still, that's easier said than done. So in this article, let's talk about how to reduce call times in medical call centers. That way you can enroll more patients, increase their wellness, and ultimately improve your medical facility.
How To Reduce Hold Time In A Call Center
Let's talk about some best practices to reduce hold times in a call center.
Provide A Callback Option
One of the primary ways to reduce call hold time in a call center is via callback options. A lot of people will hang up with the call center simply because they feel like they waited too long.
If you want to reduce this, then give them an option to call back. If this is planned, you can track this. They'll also be able to call back at a specific time. This decreases the wait times overall.
Use Live Chat, Texting, And Email
One of the other great tips to reduce hold time in a call center is using more than one method. Using a multi-channel approach, you can reduce call times.
Some people prefer to text or use written communication rather than be on the phone. Why not cater to these people, especially if this can often take less than an entire phone call?
Reduce The Average Handle Time
Obviously, the average handle time of your call center is going to affect other KPIs, such as hold times.
The longer the agents are on the phone, the longer it will take them to get to other callers. If you can train your staff to be more efficient and effective, then you can reduce your hold times.
Keep Note-Taking To Post-Call
Instead of holding up the call to take notes during a live transaction, have your agents keep the most important points in mind.
Then they can make a quick note or update after the call takes place. This allows them to get to another customer faster and avoid multitasking, which can take a long time.
Monitor Calls And Improve
You should continually monitor your call agent center calls. That way you can understand why a call took so long. Ultimately, you can reduce the total amount of time that those calls take in the future.
Improve Your Medical Call Center Today
Reach out to the experts at Sequence Health right now. We'll help you determine the best ways to improve your call center operations.
Our expert agents know how to perform outreach, enrollment, handle inbound calls, and ultimately save costs for your healthcare services.