The Importance Of EMR In Medical Billing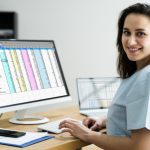 Electronic medical records (EMRs) have all the information needed on a patient that's created at your healthcare facility. This might include medical histories, immunizations, allergies, diagnoses, and more. It helps the patient receive better care at the end of the day.
The doctor can easily pull up notes and important information about the patient as well as communicate this with insurance companies to be properly compensated for the services rendered.
That being said, there are several challenges when implementing EMRs. Let's talk about the importance of EMR systems being integrated with your other health information systems. That way you can boost your productivity and patient safety going forward.
The Benefits Of EMR Integration With Medical Billing
Higher Reimbursement Rates
You need to ensure that you optimize your reimbursements from payers. After all, this is the large majority of revenues for individual providers and even larger hospitals.
A rejection or denial from the insurance company could create an expensive delay or lack of payment for services rendered. When you have an EMR integrated system, it reduces the error rate.
Ultimately, this helps ensure that your revenues are on track with your estimates. It eliminates human error from missing patient details, invalid entries, and incorrect coding processes during billing.
Streamline Provider Administration
Your healthcare administration staff already has enough on their plate. Why create more by not having an automated EMR system? Instead, your front office staff can communicate with every part of your provider team with seamless data exchange.
Integrating this health information system helps every department — from radiology to lab testing to billing — work together seamlessly.
Admitted Patient Billing Can Become Streamlined
EMR and medical billing go hand in hand. And your billing staff can get all the information they need about treatment for medical records in just a few clicks. An EMR integrated platform optimizes your revenue cycle management, reducing errors and speeding up billing.
This information is essential during a patient's discharge when accessing their medical records. After all, a patient's care could involve several tests, screenings, treatments, and scans.
Get EMR Solutions Today
Reach out to the experts at Sequence Health today to learn more about our EMR integration services. You deserve an all-in-one system that helps you combine patient medical records, billing, and other necessary administrative tasks.
Instead of wasting time switching between different systems, you can automate your workflow and allow your staff to provide better services in less time.