The Intersection of AI And Call Centers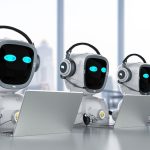 Artificial intelligence has truly taken the world by storm. And if you're wondering how to use AI in your medical care call center then you're reading the right blog post. While AI can be dangerous in the wrong hands it can be incredibly helpful for health care practices and patients alike.
So in this post let's explore some of the ways you can leverage artificial intelligence in your medical call center operations. Ultimately you can improve patient outcomes, financial results, and efficiency.
Read More: Reducing Medical Call Center Wait Times
What Is AI In Call Centers?
Artificial intelligence is a catch-all term that refers to several types of technologies. Essentially, it's computer software that learns as time goes on. By receiving a variety of inputs, it can make intelligent predictions and mimic the intelligence of humans.
AI can translate languages, predict patterns, create content and ideas, organize information, answer calls, and more.
A healthcare call center that leverages this technology is also known as an "AI call center."
Can AI Replace Human Call Center Agents?
Especially in the healthcare field, patients will always want the human touch. For that reason, you can rely on Sequence Health to employ human call center agents to be available for appointments, inbound calls, and more.
That being said, there are a surprising number of tasks that AI can do better and faster than humans.
For instance, instead of sifting through mundane information, answering repetitive questions, or writing generic emails, AI can be employed to automate these tasks. Ultimately, these allow you to communicate with patients more accurately, quickly, and with lower expenses or time resources expended.
So just because AI is becoming powerful doesn't mean that human beings will be out of a job anytime soon.
If anything, the nature of their roles will shift — allowing them to focus on higher-level problem-solving for patients rather than lower-level repetitive tasks that can be outsourced to technology.
AI Call Center Solutions
Let's just explore some of the ways that artificial intelligence can be used in medical call center operations.
1. Enhance Patient And Agent Experience
Interactive voice response (IVR systems) are an excellent resource for call centers. When you work with a call center that uses this technology, it can connect customers with the right agents based on the needs of that patient.
Ultimately, IVRs save time for agents and call centers while saving time for patients as well. As you may imagine, this allows your overall medical operation, healthcare organization to be more efficient.
AI-powered IVR uses the same technology you may have heard of such as chat GPT. Thanks to natural language processing, it can understand the inquiries of patients and then direct them to the right resources, agents, or information that's most appropriate.
2. Allow Patients To Chat Instantly
AI chatbots are a great resource to allow patients to get their questions answered in real time without needing to speak to an agent. While some patients may prefer to speak with someone's voice on the phone, others may simply want the quickest way to answer a quick question.
For instance, if someone asks, "What time is my appointment?" An AI chatbot can easily parse this inquiry and send them the correct answer in seconds. It's even faster than email or text messaging.
Ultimately, the faster that you can serve patients, the better their experience is with your healthcare organization. Of course, that leads to better reviews, referrals, and reputation in your local market.
3. Deeper Insights Into Metrics And KPIs
Artificial intelligence allows you to look at the data of your healthcare operations and understand where you can improve and where you're succeeding.
This is especially important in call centers where things like first call resolution rate and average handle time are measured.
At Sequence Health, we always look at the data to help us understand how to improve patient outcomes, call center efficiency, and overall healthcare center performance. With a data-driven approach, we let the facts speak for themselves.
Hire An AI-Enabled Healthcare Call Center
At Sequence Health we provide all of the AI call center solutions that you may need. Our expert health call center agents are highly trained in the use of technology.
We will reduce your inbound call issues, streamline medical operations, and create more patient satisfaction. So reach out for a free consultation right now and transform your healthcare organization with artificial intelligence.