Top Outsourced Medical Call Center Misconceptions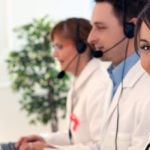 Earlier this month, we published a blog, "Prefacing Our New Outsourced Medical Call Center White Paper" which provided an overview of the soon-to-be-launched Outsourced Medical Call Centers: Defining Success and Selecting the Best Partner.
In anticipation of its launch, I thought I'd explore a concept that recurs in it: common misconceptions about outsourced healthcare call centers (also known as healthcare call centers, hospital call centers and healthcare contact centers).
An Outsourced Medical Center Means a Reduction of Control (and Quality)?
On the surface, it may seem that in-house healthcare call centers have a distinct advantage over outsourced medical call centers—namely, the ability to control vital components like:
• Staffing
• Training
• Monitoring
• Performance
However, there are two flaws in that assumption that are challenged in the white paper:
1. The presumed "advantage" of being burdened with the associated responsibilities of an in-house outweigh the benefit to have complete control.
2. Using an outsourced medical call center translates into a wholesale reduction of control.
The reality is the best outsourced medical call centers cannot only reduce the pressures of having to staff, train, monitor and maintain a call center, but they can also do it more optimally by the sheer benefit of specialization (and the wisdom and experience it yields).
Further, the partner hospital never fully loses control. On the contrary, the better outsourced medical call centers will work with its partners to develop and revise customized phone scripts that enable call center agents to:
• Personalize calls for each patient by physician
• Ensure compliance with hospital-employed practices
• Enhance the patient experience
Likewise, the best outsourced medical call centers also typically record and monitor calls, which are crucial for the partner to trust the call center can :
• Ensure high standards are being maintained
• Conduct evaluations to improve training and performance
• Resolve complaints, disputes and conflicts that emerge from a call
Medical Call Centers Only Handle Inbound Calls?
Another common misperception the white paper discusses is that medical call centers only handle inbound calls. But, in reality, not only can they be used for outbound calling, but they are used almost as often as for inbound calls.
Whether for inbound or outbound calls, outsourced medical call centers are superb resources for providing numerous patient support services that include:
• Referrals
• Admissions and Discharges
• Prescriptions
• Scheduling
• Education
In sum, outsourced medical call centers can be invaluable to a hospital's patient engagement strategy, but finding the right solution begins with being well-informed, and our white paper one way to achieve that. Please be sure to download the white paper or get notified when it is published!
---
Brian Malone Sequence Health's Contact Center Director.
Sequence Health has been a leading healthcare call center provider for more than a decade. If you have been thinking about how to choose the best medical call center for your hospital, clinic or other healthcare facility, we are here to help find solutions.