Types of Call Forwarding In A Healthcare Call Center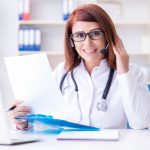 When it comes to call forwarding, there are a lot of aspects to consider for the healthcare industry. For context, call forwarding happens when a phone call is sent to a different person when the initial recipient cannot answer.
For example, you can forward a call to another healthcare call center agent or an automated call forwarding service.
This ensures that all of your inbound calls are answered in a timely manner. While you may have heard of call forwarding before, you may not be aware of the different types of call forwarding available. So in this article, let's talk about medical call forwarding services in depth.
Call Forwarding Types
Unconditional Forwarding
This is also referred to as straight directory forwarding. This automatically forwards calls right away, no matter what the scenario.
This is common for virtual phone numbers, where you may have several numbers that all route to one endpoint. If an agent is going to pick up the phone, they'll typically hear a call whisper. This tells them what number is calling or what client the call is for, so they know how to answer it appropriately.
Call Cascading
This is more complex than a straight redirect. Call cascading lets you redirect incoming phone calls to different phones. You can order the sequence how you want instead of having them all ring simultaneously. Some call centers have a hierarchy that helps increase internal efficiency using call cascading.
Find Me / Follow Me
Find Me services are those that let you receive incoming calls from anywhere. Follow Me services allow you to be redirected to a specific location.
The Follow Me services also allow you to reach a specific phone number defined by the user. A virtual phone number is typically assigned and can receive calls on multiple devices.
Hunt Groups
Line hunting is another word for hunt groups. This technique distributes phone calls from a certain phone number to different lines. An algorithm determines which recipient will answer the phone.
Typically in a call center, the person whose phone has been inactive the longest will receive the call. It helps decrease call wait times within healthcare call centers.
Circular Hunting
Using a round-robin technique, the call is forwarded to the next available line until no lines are left. Then the next call goes to the first phone number in the sequence. This is why it's called circular hunting.
Of course, this requires that your call center team members are well-trained and prepared for their turn. Read here to learn more about the qualities of great medical call center agents.
Call Whisperer Screening
Call whisperer screening allows the agent to determine which call they answer and in what order. They get clues about the caller's name, location, or other information.
Get Professional Medical Call Center Services
If you want real results with your medical program, then contact Sequence Health today. Our patient conversion solutions take your specific needs into account, helping you optimize patient outcomes and revenue streams.
From call center services to digital marketing, our team of experts is here to enhance your entire healthcare program.