Why Hospitals & Practices Should Use Video: Reasons To Use Medical Video Production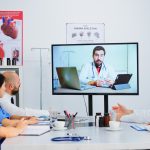 Video-Enhanced Medical Interactions: A New Era of Expertise and Patient Engagement
Video, particularly online video, is one of the most popular ways that people consume content. YouTube, Vimeo, Facebook, Instagram, and now TikTok have hit it big with video and people from all walks of life are producing video for their viewers. Doctors have been using video to market their practices for years and the opportunity seems to keep growing.
Video has several advantages that make it a no-brainer for both marketing and patient education. So what is the importance of video production for healthcare practices and hospitals?
Reasons Why Hospitals Use Medical Video Production
Improve telehealth offerings.
Telehealth has been part of medicine for decades. However, it's only recently that hospitals have been using video messaging and video content to improve their telehealth services. This article will be primarily focusing on the benefits of using video as an aid to telehealth.
Telehealth services can be limited because they require a doctor's time. Having a patient watch informational videos before or after providing telehealth services can improve a patient's level of engagement and better equip them to follow through with the prescribed treatment.
Provide patients with access to education.
Many doctor's offices rely on pamphlets that a patient may or may not read. This form of education has largely been replaced with digital media formats such as PDFs and now, video.
Your patient portal can be used to host videos on various health topics that patients can use to take a more active role in their own healthcare. This can improve patient engagement, which in turn improves patient outcomes.
Video marketing can help grow a practice's brand.
Because video is one of the most common ways people consume media, it goes without saying that using it for marketing represents a big opportunity. A hospital or practice that puts out quality video content can show the world that they are trustworthy, knowledgeable, and put the patient's needs first.
Not only that, but having quality content out there on the Internet can improve your hospital or practice's overall reach. People who would have otherwise never known about your brand are now exposed to it, and if the content helps them, their exposure to your brand will be a positive one.
Video is a core part of medical marketing strategies that aim to reach people on multiple channels, from traditional to digital.
Sequence Health is a provider of patient engagement solutions and also offers medical online marketing services to practices and hospitals.