Why & How to Get AAAHC Ambulatory Health Care Accreditation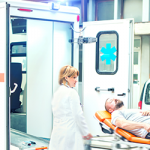 Ambulatory health care accreditation is an often overlooked step in improving your ambulatory care outcomes and reputation. One of the leaders in this is the Accreditation Association of Ambulatory Health Care (AAAHC), which has been providing approval for ambulatory care facilities since 1979.
Through the use of a peer-based review and evaluation program, AAAHC examines all areas of medical institutions, including:
• Quality of care
• Use of facilities
• Adherence to best practices
• Management methodology
AAAHC accreditation is highly respected in primary care fields, and their certification validates your medical practice's willingness to exceed minimum expectations for quality ambulatory patient care.
Because AAAHC offers certification only for healthcare practices that demonstrate comprehensive compliance with stated criteria, earning AAAHC ambulatory health care accreditation is a vital part of maintaining a well-reputed clinic that provides quality care.
AAAHC Accreditation Process
AAAHC accreditation is a multi-step process that requires a thorough review of your current ambulatory health care practices. In order to be as successful as possible during the evaluation process, AAAHC has outlined several steps designed to assist hospitals and practices:
• Perform a Self-Evaluation: Prior to bringing in an official team of surveyors, ambulatory health care facilities are urged to read the current AAAHC Handbook and self-assess compliance with all required criteria. If expectations are not maintained in full, adjustments should be made prior to continuing.
• Submit a Survey Application: In order to begin the ambulatory health care accreditation review process, facilities must submit a survey application. Once received, the AAAHC will determine the timeline necessary, the number of surveyors required, and the applicable fee.
• Prepare for Evaluation: Surveyor visits are arranged in advance. Hospitals and clinics should prepare prior to the scheduled date, ensuring all AAAHC Handbook requirements are met and displayed appropriately. This may involve:
• Facility cleaning
• Technology evaluation and repair
• Extra staffing to meet the needs of the review team
The Importance of EHR Management and Ambulatory Health Care Accreditation
Electronic health records (EHR) have become a standard in modern ambulatory health care. As a result, an inability to meet expectations may compromise your ability to secure the certifications of excellence your hospital or care center deserves.
Demonstrating effective patient care coordination for ambulatory health care accreditation goes beyond what skills and procedures you physicians can perform. Instead, it also evaluates how well you organize data, especially as it relates to the patient experience.
Regardless of which ambulatory health care accreditation organization you use, EHR management will likely be a crucial factor in your success. As you prepare for ambulatory health care accreditation, be sure to examine your capabilities for EHR and:
• Appropriately handled first contacts
• High standards and HIPAA compliance throughout appointments and treatments
• Proper billing practices
Sequence Health can support your journey through the AAAHC accreditation process. Contact us if you need assistance ensuring your facility's compliance with ambulatory health care accreditation standards or would like to improve patient care coordination.