Why Patient Engagement Is Important In Healthcare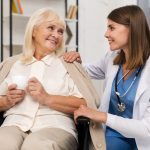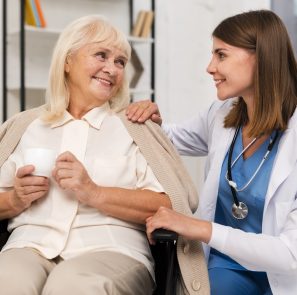 Healthcare professionals tend to regard patient engagement as a high priority. It's considered an essential indicator of quality care and correlates well with positive business outcomes.
However, patient engagement is not a guarantee. Ultimately, it's up to the patient to decide which healthcare options he or she would like to pursue. As a healthcare professional, you can only hope to provide the patient with the information necessary to make a decision.
So what can be done about patient engagement, and why is it so important yet so difficult to achieve?
What Is Patient Engagement?
Patient engagement represents how patients, caregivers, and healthcare providers interact to make good healthcare decisions on behalf of the patient. Ultimately, the onus is on the patient to make the decision based on the information given. Patients who take an active role in their healthcare and utilize the services provided by caregivers and healthcare professionals to the utmost can be said to be highly engaged patients.
Patient engagement has become a strategy to help achieve better health outcomes for patients while lowering the cost of administering healthcare services.
Why Is Patient Engagement Important?
Patients have options available to them.
It's not hard for a patient to go to another practice. They can search for doctors and practices online quickly, and they have access to customer reviews online. Thanks to the Internet and global interconnectedness, patients are no longer limited to their immediate area, either.
Without actively getting patients engaged in their healthcare, they're much more likely to have a negative experience and switch practices.
Engagement tools can help cut costs, reduce waste, and lower the burden on staff.
Technology has done wonders for improving patient engagement. Even ubiquitous tools like social media and search engines allow patients to have a much more active role in their care.
What's even more interesting is the growing availability of tools such as wearable tech that checks health measures and patient portals for patients to access their medical records safely online. By making sure that patients know about these tools, as well as providing active support for the latest patient engagement technology, your practice can help make your clientele a much more engaged one.
Patient engagement leads to better health outcomes.
How does patient engagement improve patient health?
Engaged patients are, for example, more likely to attend regular health appointments and participate in recommended screenings. They're more likely to understand why they're important, too.
They're also more likely to actively look for information about health topics relevant to them. Engaged patients are interested in their health, and healthcare professionals can help instill a greater interest in a patient's health.
Engaged patients are more likely to be satisfied ones, and thus more likely to return.
Thanks to improved health outcomes, as well as a sense of understanding between the patient and healthcare staff, engaged patients are more likely to report positive experiences and overall satisfaction with their care.
As a result, they're more likely to come back or recommend your practice to another. This has the effect of not only establishing a quality clientele, but also allowing that clientele to grow organically.
In Summary
Patient engagement is an important focal point for healthcare professionals.
Engaged patients have better health outcomes and are more likely to have a positive experience with your practice.
Technology is playing a role in helping patients become more engaged.