Assessing the State of your CJR Preparation: 4 Keys to Success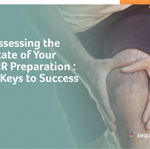 How is your organization affected by the CMS Comprehensive Joint Replacement bundled payment model? Not sure whether you're prepared for the balance of volume-based and value-based care? Now is the time to implement new products and workflow innovations that can pay off down the line. Implementing simple changes in key areas now and measuring results in real-time can mean more payoff down the line.
To Discover Ways to Meet These Four CJR Requirements:
Acquire and Develop Multidisciplinary Care Teams
Manage Patients Along Care Pathways
Improve the End-To-End Patient Experience
Manage Readmission Risk By Improving Patient Engagement
Looking for a brief overview of the CJR principles and suggestions for ways to meet requirements under each core area? Download this CJR product sheet here.