5 Simple SEO Tips for Healthcare Businesses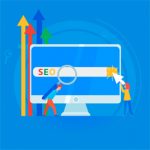 Wondering why your healthcare business doesn't rank all that well on Google? It's because your website isn't optimized for it!
SEO, or search engine optimization, has been a buzzword in the industry for years. But it's important, and we're going to show you how to do healthcare SEO yourself; simple, effective, and actionable tips.
Know Your Keywords
You own a healthcare business, so surely you already know what people are searching for, right? Unfortunately, many people get this step so wrong, and after doing all sorts of healthcare SEO, they still don't get any more traffic!
To do this simply and effectively, come up with a list of services you offer. Then write down the benefits of these services. These are your keyword starters… but they won't be what you optimize for.
Then, open up Google's Keyword Planner and enter these phrases into the tool. You'll be presented with a list of keywords, ordered by the amount of traffic available per month.
Look for long-tail keywords (keywords looking for something specific, usually more than 2 words in length) with significant volume, at least 200 monthly searches. Keep a list of these.
Get Your Meta Tags Straight
Those keywords you've come up with should be in your meta tags. You can see them between the head tags in the HTML of your site.
There are many types of metadata, but the two primary ones are the title tag and the meta description. The title tag should contain the topic of the page and should have your focus keyword for that page. The meta description should describe what's on the page, in a sentence, containing the top few keywords you want for that page.
Focus On Your Local Area
Healthcare SEO is centered around local SEO. Local SEO focuses on people who are looking for a business in their local area, and is a goldmine for highly targeted traffic!
You need to create a Google My Business listing, if you are a local business with an address you want people to visit or a phone number you want people to call. Associate that My Business listing with your website and that business will pop up on Maps and in the main search results when people search for you (and sometimes when people search for your focus keywords!)
Post Excellent, Original Content
Google prioritizes good content over poorly-written or spun content, based on several complicated and secret factors. All in all, though, your content needs to provide great value to the reader, while also being original.
Remember that keyword planner tool we were talking about in the first step? Now we want to create content around these keywords. Choose a few of them and write articles about these topics, focusing on optimizing for a long tail. This is how you not only rank, but get quality traffic from Google!
Leverage Other Types of Media
It's not just websites people search for. They're also searching for images, videos, news, places, and more!
By making sure your images and videos have the appropriate keywords and metadata on them, you can help your website show up in search. People may click the video and image and go to your site from there, opening up an avenue for high-quality traffic!