Using Automated Phone Calls and Texts to Improve Patient Outcomes, Hospital Brand Perceptions
March 3, 2017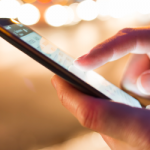 The thought of using any type of automated phone system for communicating with patients—including text messages—might not initially seem to a be productive one. After all, how many times have you received a "robocall" or an unsolicited text that proved to be nothing more than a nuisance? In that context, why would you want to jeopardize your hospital's brand with perceptions of being a nuisance?
However, those conclusions might not necessarily be valid. Studies about automated healthcare phone calls and texts are suggesting the contrary—particularly in the ability for them to boost patient outcomes and engagement and to improve brand perceptions.
Automated Phone Messages: The Colon Cancer Screening Study
There are some outstanding examples of how automated phone messages have proven their potential. FierceHealthcare.com's "Automated Phone Notifications Engage Patients, Boost Follow-Up Care" cited a report that indicated how a "health system [that] had previously been close to the bottom of the national average for colorectal screening "used automated phone calls" to get 578 patients to schedule colon cancer screenings, which led to the diagnosis of pre-cancerous polyps in an estimated 145 patients." Some simple math shows 25 percent of those patients were diagnosed…an impressive rate indeed!
Automated Text Messages: The Heart Disease Study
Of course, any discussion about modern phone communications implies the usage of mobile devices and smartphones—which further implies the usage of SMS text messaging. According to Pew Research's "6 Facts About Americans and Their Smartphones," approximately two-thirds of American adults own a smartphone, with 62 percent of them having used the device to get information about a health condition.
With most of the population using a technology that has a positive relationship with personal health management, it would seem reasonable to suggest that automated text messages could be a key to improving patient outcomes, like automated phone messages. Once again, studies are confirming this presumption.
In 2015, the JAMA Network published clinical trial results, "Effect of Lifestyle-Focused Text Messaging on Risk Factor Modification in Patients With Coronary Heart Disease," in which half of the 700 participating heart disease patients were sent text messages either two or four times a week for a six-month period. The report concluded:
"Among patients with CHD, the use of a lifestyle-focused text messaging service compared with usual care resulted in a modest improvement in LDL-C level and moderate improvements in blood pressure, BMI, and smoking status."
Improving Hospital and Clinic Brand Perceptions
Earlier it was suggested that automated phone calls and texts could be perceived as a nuisance—even if they are in fact effective at improving communications with patients. Yet, research is deflecting the negative implications. For instance, MedicalEconomics.com's "Staying Connected to Patients Beyond the Office Visit" mentioned a study that said:
"66% of Americans have received a voicemail, text or email from their healthcare provider, with half of those who received a communication saying it made them feel more valued, a third saying the digital communication improved their opinion of the provider and a third saying it made them feel more likely to visit the provider again."
How to Use Automated Phone Calls and Texts to Improve Patient Management and Outcomes
If your hospital or clinic uses a patient appointment management platform, it's possible that you already have the tools needed to immediately use automated phone calls and text messages to better engage with and manage your patients. However, automated communications are useful for many other objectives, including alerts and reminders for:
• Prescription refills
• Drug recall
• Monitoring
• Preventative care
The advantages of improving patient outcomes not only exceed the primary goal of every healthcare provider to help patients enjoy healthier and happier lives, but as we've discussed in blogs such as "BPCI Initiative Year 2 Lessons Learned," they are increasingly related to Medicare reimbursements.
---
Sequence Health is a recognized leader for innovative patient management solutions, which includes our Sequence patient management PaaS (platform as a service). To learn about how Sequence Health can help your improve your patient outcomes and engagement, please contact us.