Bariatric Surgery Center Accreditation: A Life or Death Decision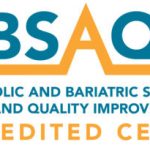 Evidence Shows MBSAQIP Accredited Bariatric Surgery Centers Offer Significantly Less Risk of Complication
Life-changing bariatric surgery is performed more than 179,000 times each year in bariatric surgery centers across the United States. Although CMS lifted mandates requiring these centers to obtain accreditation through the Metabolic and Bariatric Surgery Accreditation and Quality Improvement Program (MBSAQIP) in 2013, a recent groundbreaking study shows a significant advantage for patients choosing an accredited center.
"Accredited bariatric surgical centers provide not only safer care but also less expensive care," said Dr. John Morton, chief of bariatric and minimally invasive surgery, Stanford University School of Medicine. "Even though we use little incisions, it's still a big operation. Accreditation indicates that a bariatric surgical center has the resources and experience in place to take care of any complications that may potentially occur."
Dr. Morton and Stanford colleague Dan Azagury, MD, reviewed 13 studies published between 2009 and 2013 including eight studies that showed accredited facilities reduce the odds of having a serious post-discharge complication by 9 to 39 percent. The study further showed that the risk of post-operative mortality was low in accredited facilities, however the risk was 2.26 to 3.57 times higher at a non-accredited facility.
---
MBSAQIP Accreditation, Private Insurers, and the Future for Medicare Patients
The clear results of the study show significant benefits for the more than 700 bariatric surgery centers currently accredited by the program. With the release of these unprecedented findings comes confirmation that private insurers are placing value on patient outcomes by requiring they choose an accredited facility. As CMS continues to align alternative payment initiatives with value-based, outcomes-driven care it is likely they will revisit the issue of accreditation for bariatric surgery centers, possibly reversing the 2013 decision to lift the requirement for Medicare patients.
New MBSAQIP Standards Effective October 2016
The MBSAQIP will be presenting a new accreditation Standards Manual 2.0 in October of this year. Take a sneak peek at the new manual and register to attend the Sequence Health August webinar for additional details on tools to ensure you meet these new standards, including patient engagement strategies from Sequence Health.
---
Sequence as a Solution to Satisfy Requirements of Accreditation
Sequence offers best-in-class patient engagement solutions throughout the patient experience. The following core standards for MBSAQIP accreditation fall into the three stages of the patient experience managed using Sequence Health's suite of solutions featuring the Sequence platform.
Patient Acquisition
Core Accreditation Standards:
1. Case volume, patient selection, and approved procedures by designation level
2. Commitment to quality care
Patient Management
Core Accreditation Standards:
3. Appropriate equipment and instruments to care for at-risk patients with special needs
4. Critical care support
5. Continuum of care
Patient Retention and Results
Core Accreditation Standards:
6. Data collection
7. Continuous quality improvement
Sequence Health's solutions are designed to manage the relationships among the patients and care team members while also managing the workflows associated with each stakeholder along the patient's journey to better health.
Ask about:
• Digital marketing services including SEO and PPC campaigns
• Healthcare-specific website design, development, and hosting
• Online Seminar video production and hosting
• Lead Intake Forms configured to capture details necessary to convert leads to patients
• Customizable Patient Intake Forms that provide detailed information about the patient from the initial onboarding stages and allow care team members to identify and assess patient data and manage risks from the beginning of the patient and provider relationship
• Dedicated Medical Call Center and 24/7 NurseLine to support patients and assist care teams
• Messaging, reporting and engagement functionality to keep multidisciplinary care team members aware of real-time updates to the patient's status, including critical care needs
Sequence cloud-based patient relationship and performance-optimizing workflow management platform featuring:
1. Configurable care pathways, customizable permissions settings for care team members, Care Transition module for post-discharge follow-up and risk mitigation, and complete patient engagement strategies throughout the care continuum
2. Integration with an organization's existing IT infrastructure and EMR technology to provide real-time contextual views of patient data, allowing care teams to continue to modify the care plan to ensure optimal quality outcomes
Call today to assess your readiness to comply with MBSAQIP accreditation standards and learn more about the patient engagement and outcomes management advantages offered by the Sequence Health suite of solutions. Register today for the next webinar in the Sequence Health series.
Webinar Topic: Sequence Is Your Patient Engagement Solution
Host: Hayley Kenslea
Date: Thursday, August 11, 2016
Time: 2:00 PM EST
Learn more about Sequence Health by calling 888.986.3638 or visiting our website at https://www.sequencehealth.com.