Bridging Bariatric Patient Conversion Rates and Practice Growth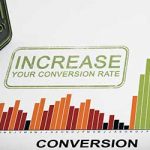 Our Final Rule for Growing Your Bariatric Practice Addresses the Importance of Managing Patient Pipelines with Better Monitoring, Tracking and Analysis
Before we explore our fourth and final rule and conclude our series about how to grow your bariatric practice, let's revisit the first three rules:
• Rule #1: Know Your Numbers: The foundation of any successful bariatric practice marketing program! Having a firm grasp on your bariatric patient acquisition data is crucial for developing and gauging effective marketing strategies.
• Rule #2: Make It Easy for Patients to Find You: Patients use online searches to find healthcare services more than anything else. With so much at stake, you must leverage online search strategies and tools to get your bariatric surgery program directly in front of them.
• Rule #3: Use Online Seminars to Increase Leads: If you aren't offering online bariatric seminars to prospects, your competitors probably do—and they are taking your share of new bariatric patients.
Now, the fourth rule: Increase conversions rates throughout the entire patient pipeline. This specifically includes patient conversion rates for:
• Leads to Surgery
• Seminars to Surgery
• Consults to Surgery
This is important because we've seen compelling results from our own studies that have shown direct correlation between positive bariatric patient surgery conversion rates and success bariatric surgery programs.
Getting Patients Into the Pipeline is Only the Beginning of the Conversion Process
Below is a chart from a study of one of our client's conversion rates over a two-year period. Even without scrutinizing the chart's details, it's immediately obvious that as the slopes increase positively in the left column (conversion rates), the same happens in the right column (program growth).

Take a moment to think about how each line represents a different phase of the patient pipeline. Notice in the left column how patients are more likely to get surgery (convert) the farther they move down the lead–to-seminar-to-consult pipeline.
The takeaway is that it's not enough to just have a great marketing strategy that gets prospects to become aware of your program. Instead, you must also have a well-managed patient pipeline that can retain prospects and nurture them through the entire journey.
Once Again, You Must First "Know Your Numbers" to Improve Your Growth
Ironically, the first step in increasing bariatric conversion rates and managing patient pipelines relates to the first rule, "Know Your Numbers." This is because having an accurate and reliable process for monitoring your conversation rates will give you valuable insights into your patient pipelines.
There are multiple processes and tools for collecting statistics, ranging from simple-to-sophisticated to analog-to-digital.
We asked guests at our recent Webinar, 4 Powerful Strategies That Can Grow Your Bariatric Program, about which tools they used, and the results showed a range of practices: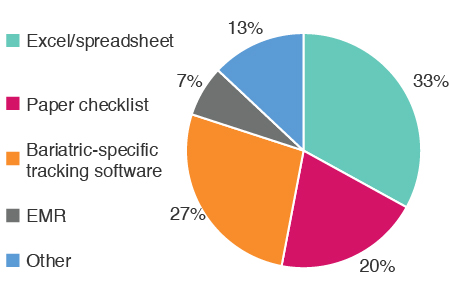 Using Bariatric Patient Pipeline Management to Improve Conversion Rates
Let's presume you actively use at least one of the above processes for tracking your bariatric patient pipelines and measuring conversion rates. Would it be a fair assumption to say if you aren't using bariatric-specific patient tracking software, you probably aren't experiencing the growth you want or need?
If this describes your situation, don't feel bad—but also don't overreact and get the first option you find, because it might not be the best solution for you.
There are two reasons for this.
First, not all bariatric patient management software and platforms integrate with all EMRs. In our experience, we've seen much better outcomes when the platform "plays nice" with an existing EMR because it can significantly improve efficiency throughout your entire practice.
Second, not all platforms can give you easily understandable metrics about your patient pipelines that answer essential questions like:
• Where do our leads come from?
• Where do our patients stall?
Below is an example of how our platform provides a simple yet powerful illustration of where your patients are in their entire journey—including post-operation.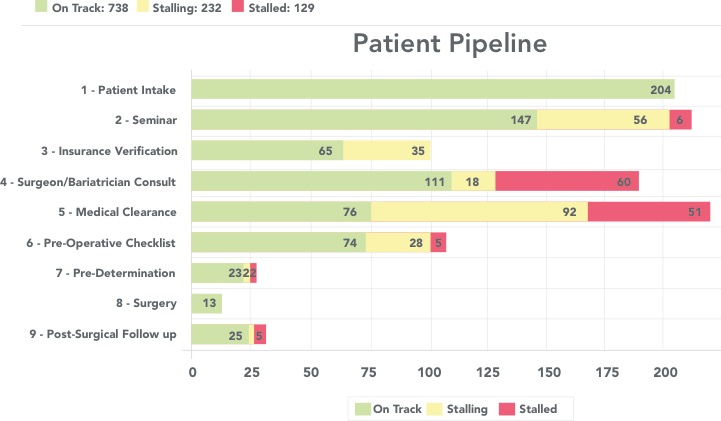 In this example, the practice does well with getting prospects into the program (patient intake, seminar and insurance verification). But notice how there's a sudden surge in stalled patients during the consult and clearance stages. If not already lost, then these prospects are very likely to drop out of the program (and likely go elsewhere).
A Final Thought
As mentioned at the beginning of this series, we regularly hear from bariatric surgery practices about how difficult it is to manage the day-to-day operations while also trying to increase patient volumes.
Although there are no quick fixes or one-size-fits-all solutions, the truth is there are many bariatric surgery practices enjoy a healthy balance of current surgery volumes and anticipated growth. We are privileged to have some as clients. Your practice has the capability of enjoying that kind of success, and we hope this series helps you continue to advance towards that goal.
---
Nate McCormack is Sequence Health's Director of National Sales.
Sequence Health is a cloud-based technology and services company that improves profitability and patient outcomes for hospitals and practices through end-to-end patient engagement solutions backed by clinical and non-clinical teams. Its HIPAA-compliant, SaaS platform improves care team workflows, automates patient communication and tracks patient progress to optimize the patient journey. Since 2004, leading healthcare providers have trusted Sequence Health to help acquire, manage and engage patients through complex episodes of care.