Healthcare Email Marketing: Why It's Powerful and Popular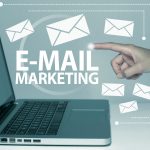 According to a study by the Pew Research Center, nearly half of all American adults say they get their health information from emails. That's more than television (33 percent), radio (14 percent), newspapers (8 percent), or magazines (7 percent).
Email is a powerful and widespread communication tool for healthcare marketing. Learn why email is so effective in the healthcare industry and give you some tips on creating successful email campaigns.
1. An Effective Channel for Reaching Patients
Email marketing can be used to reach patients in several different ways. For example, it can be used to:
Send appointment reminders
Share educational content about medications and health goals
Promote healthy living tips
Announce changes or new services at your practice
2. Emails Have a High Open Rate and Click-Through Rate
The healthcare sector has one of the highest open rates for emails compared to other industries. In fact, according to an expert study by eMarketer, the healthcare sector had an open rate of 21.53% in 2018. It is significantly higher than the average open rate for all industries, which was 15.14%.
Similarly, the healthcare sector has a higher click-through rate (CTR) for emails. The CTR measures the number of people who click on a link in an email divided by the number of people who received the email.
3. A Personalized Marketing Effect to Support Branding
Email marketing is a highly personalized form of marketing as it allows you to address your patients and potential customers by name, which creates a more human connection. In addition, email communications allow you to share your brand's story in a way that builds trust and credibility. For example, you can share patient testimonials, stories about how your practice has helped others, or even videos that show the human side of your brand.
Read this article on Promotion Tricks to Get You Patients to Use the Patient Portal for streamlined operations.
4. A Cost-effective Solution
An email marketing campaign is a cost-effective idea for healthcare providers. It does not require a large budget to start and can be scaled up or down as needed. Email marketing is flexible, allowing you to precisely send messages to specific segments of your list or target new audiences.
Sequence Health provides healthcare engagement solutions in Atlanta, Georgia. Our team of patient engagement specialists works with you to increase patient satisfaction, improve health outcomes, and reduce costs.