How A Missed Call Can Impact Business For Healthcare Organizations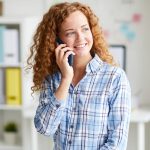 Running any kind of business requires excellent customer contact methods. This is especially true for healthcare, where the stakes are high. However, a lot of healthcare programs don't understand the effect that missing a phone call can have.
So, in this article, we'll talk about how a missed call can impact business for healthcare operators.
The Impact Of A Missed Call On Your Business
Patient Outcomes
There's always a reason that a patient or potential customer calls your healthcare center. They're either looking to learn about your health services or schedule an appointment with their doctor. They could even have an emergency.
If the call is missed, they could miss out on an opportunity to improve their long-term health. This is the best-case scenario.
In a worst-case scenario, they could even miss a significant opportunity to speak with their doctor about an urgent symptom that they have.
That's why it's so important to invest in a healthcare call center that can answer inbound calls quickly and professionally.
Quickly answering incoming calls is important. But read this blog post to learn other essential aspects of customer service in medical call centers.
Reputation
Your healthcare program must maintain a positive reputation in the marketplace to maintain success. No one wants to visit a hospital with a poor reputation due to long wait times to get help.
They may assume that they won't be treated properly in a medical sense as well. Therefore, the faster you can answer calls, the better your reputation and patient acquisition will be.
Costs
Every time that someone has to call back, it can increase the cost required to get that patient back on the phone. Call center agents usually receive calls automatically or have a system internally to handle each incoming call.
So once they're taken off of their daily workflow to chase down a missed call, expenses rise considerably.
Time
There's only a limited amount of time for every healthcare organization and every human being. This goes for your call center operations as well. When you miss calls, time is taken away from crucial healthcare operations when it isn't necessary.
Growth
In order to grow your healthcare practice, you need to be able to quickly communicate with and treat patients. Anything that slows this process down will negatively affect your growth. Therefore, having fast call times can improve your ability to build on what you've already achieved.
Decrease The Impact Of Missed Calls On Your Healthcare Business
Hire the best healthcare call center available: Sequence Health. Our expert call center agents can help filter inbound calls, make outbound calls, handle insurance verification, and more.
That way, patients never are left on hold for too long or have their calls go to voicemail. Ultimately, this can help you improve your reputation, revenues, and patient outcomes.