Tips for Improving Customer Service in a Healthcare Call Center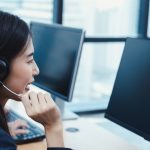 Healthcare customer service is a critical aspect of the industry. Patients and their families rely on call center agents to provide accurate information and support during difficult times.
Call centers should constantly improve their customer service for better patient experience and fewer complaints.
Read more: How To Use Healthcare Call Centers To Provide A Better Patient Experience?
Many areas of customer service, like empathy, knowledge, response time, etc., must be taken care of in a healthcare call center. Here are some tips on how to improve healthcare customer service:
1) Protection of Personal Health Information (PHI)
PHI should be a top priority for any healthcare organization. PHI is a confidential medical record that contains sensitive information about a patient's health history, diagnosis, and treatment.
For example, when a patient calls a healthcare call center, the agent should use a script that includes only the minimum necessary information to protect the patient's PHI.
Another way to protect PHI is to ensure that all agents' scripts are HIPAA-compliant. This means the scripts must follow all the regulations the Health Insurance Portability and Accountability Act set forth.
2) Use Empathy Messages
When a patient calls a healthcare call center, they usually call because they are experiencing a problem. Agents need to use empathy messages when speaking with patients.
For example, if a patient is calling because they are having trouble understanding their bill, the agent should say something like, "I can understand how confusing this might be for you."
Using empathy messages, agents show that they understand the patient's situation and want to help them.
3) Omnichannel Communication Platform
Healthcare call center agents should be able to communicate with patients through multiple channels, such as phone, email, chat, and social media.
Omnichannel communication is essential because it allows agents to reach patients on the channel that they are most comfortable with.
It also allows agents to resolve issues more quickly.
4) Quality Assessment and Training
One way to ensure that your staff provides the best customer service is to assess and train them regularly. This can be done through regular quality assurance checks and by offering training on various customer service topics.
Your employees are the face of your healthcare organization. They must be adequately trained to handle customer service inquiries. Consider creating a comprehensive training program covering active listening, empathy, and conflict resolution topics.
Additionally, consider using customer satisfaction surveys to get feedback from those who use your call center services. Taking these steps can help ensure that your staff provides the best possible service to your patients and clients.
5) Use Technology
Technology can be a great asset in a healthcare call center. Utilize call recording features to monitor calls and give feedback to staff. Additionally, consider using an automated call distribution system to route calls more efficiently.
Advanced tools which offer self-service options like appointment scheduling and prescription renewals can also be beneficial in reducing call volume.
If you are searching for a healthcare call center, contact Sequence Health. Our team of experts provides compassionate and high-quality customer service. We are HIPAA compliant and use the latest technology to ensure your privacy.