Speech Analytics & Call Centers 101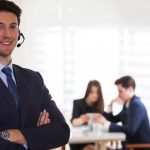 In any healthcare organization, it's always important to constantly look for ways your medical call center could be improving. That way you can truly meet the needs of your patients in your local market.
That being said, a lot of healthcare organizations make the mistake of falling behind by not using data and analytics available to them. So in this blog post, let's talk about healthcare call center voice analytics.
We'll explain what they mean and why they're so important. That way you can ensure that you're on the cutting edge of your healthcare services.
And if you're wondering whether a medical contact center is necessary for your organization in the first place, read this blog next.
The Importance Of Contact Center Speech Analytics
Identifying Correct Therapies, Medications, And Procedures
Obviously, as a healthcare organization, your first priority is to help patients overcome their health ailments and achieve the best health outcomes possible.
In order to do that, you need to identify what the best course of action is to help the patient heal, recover, or otherwise rid themselves of negative symptoms.
There are two ways that you can approach this. First, you can use your educated guesses as experts. Secondly, you can leverage data and analytics.
The reality is that data and analytics provides a lot of analysis that you may not have looked at initially. That's why it's so important to use this in your decision-making process.
Otherwise, you could risk recommending a therapy or medication that isn't as effective at that point in time for the patient.
Retention
Using data, you can understand when a patient is likely to churn. In other words, when they are likely to stop visiting your practice.
After all, if they go somewhere else or simply stop coming, that does no benefit to them nor to you. So it's important to recognize the patterns when patients are about to drop off, so to say.
Enhancing Your Presence
You can use data and analytics to understand which marketing campaigns, content, and promotions are working well online and in print.
You can measure appointment rates, show-ups, and more to determine if your messaging is effective.
Get Help With Your Speech Analytics Today At Sequence Health
We have a medical call center, but we also specialize in digital media and growing any kind of healthcare program that you may have. Let us handle the administrative and staff complications of your healthcare operations.
That way, you can focus on growing the medical services that you provide and treating patients at the highest level of respect and care. Reach out for a free conversation today.