How To Decide When A Medical Call Center Is Necessary?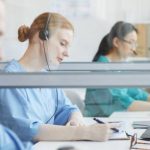 Does your healthcare center need a medical call center? It's essential to consider the factors involved in making this decision. The size of your practice, the types of services you offer, and how much staff is available are all key considerations.
A HIPAA-compliant call center is necessary for medical calls, as it ensures that all patient information is kept secure. This call center should provide knowledgeable representatives who can handle incoming medical questions and direct them to the most appropriate resources.
Read more: The Top Tips for Ensuring a HIPAA-Compliant Call Center.
To attain the highest level of customer service, look for a call center that can provide 24/7 support. Here are some signs it may be time to invest in a medical call center:
1. You Have an Increase in Patient Volume
If you're seeing more and more patients, it could be difficult for staff members to handle the influx of incoming calls. A call center can help free up valuable resources and ensure that no one misses out on essential support.
For example, a medical call center can handle the day-to-day tasks of taking phone calls, scheduling appointments, and collecting payments so that your staff members can focus on more critical tasks.
2. Your Staffing Costs Have Doubled
A medical call center can help you better manage staffing costs. By outsourcing your patient calls, you have more control over the number of staff required to answer phones and handle inquiries. A well-managed medical call center will also be able to track average wait times and provide quality assurance that your patient's needs are being addressed promptly. When your staff can focus on the highest priority tasks, you can maximize efficiency and reduce staffing costs.
3. Multi-lingual Patients Are Becoming Common
As more people move to the U.S., you'll likely need your call center staff to be able to communicate with patients in various languages. If you have multiple languages spoken within your practice, it is essential to factor this into deciding when a medical call center is necessary. A call center can ensure that the patient's language needs are met and that all communication is translated accurately. This will help to ensure better patient care, as well as reduce any potential confusion.
4. Doctor/Patient Scheduling Conflicts
A medical call center can assist when a doctor is booked up and can't take on new patients or see existing ones. They can field calls from patients trying to make appointments or help them find alternative doctors if their doctor is unavailable. This also helps to ease the burden on your office staff, allowing them more time to focus on other tasks.
5. 24/7 Availability and Support
Mitigating after-hour calls is another benefit of having a medical call center. With the rise in remote and urgent care needs, patients can be accommodated with around-the-clock access to medical services. A medical call center staff of highly trained professionals can answer questions or direct patients in the right direction—even when your practice is closed.
Contact Sequence Health for the best medical call center services. We understand the challenges of healthcare providers, and our specialized technology is designed to ensure that your patients get the best care. Our platform allows us to provide fast, accurate communications with an emphasis on quality.