The Top Tips for Ensuring a HIPAA-Compliant Call Center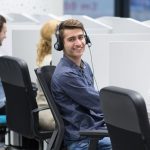 If you're running a call center, it's essential to make sure that you are HIPAA compliant. This means that you are taking the necessary steps to protect the privacy of your patient's data. HIPAA is the Health Insurance Portability and Accountability Act, and it sets the standards for how patient data can be collected, used, and disclosed.
Choosing the right medical call center is one of your decisions for your business. Not only do you need to find a call center that is familiar with your industry and can provide the services you need, but you also need to ensure that they are compliant with HIPAA.
Read more: How to Choose the Best Medical Call Center?
We will discuss what a HIPAA-compliant call center is and the top tips to ensure your call center is compliant.
What Is HIPAA?
HIPAA is a set of regulations designed to protect patient health information. To be HIPAA compliant, call centers must take measures to safeguard patient data. This includes ensuring that only authorized staff have access to patient information, using encryption to protect data in transit, and having a robust incident response plan in place in the event of a data breach.
HIPAA Compliance Requirements
1) Data Encryption
As a healthcare center, you must keep all PHI (Protected Health Information) encrypted in storage and transit. Any patient data transmitted between two employees or from your center to a third party must be protected. The best method is to use a VPN (Virtual Private Network).
2) Employee Training
All of your employees who will be handling PHI must be trained in HIPAA compliance. They should know what PHI is, how to handle it, and the consequences of not complying with HIPAA regulations.
For example, your employees should know the following:
How to properly collect, store, and transmit PHI
What the different HIPAA security safeguards are and how to implement them
The penalties for violating HIPAA regulations
You can provide this training in-house or through an outside vendor.
3) Access Control
You need to have strict controls in place for who can access patient information. This includes both physical and electronic access. Physical access should be restricted to authorized personnel only. You also need to have controls in place for electronic access, such as password protection and data encryption.
4) Security Measures
Your call center must have security measures to protect patient information from unauthorized access, use, or disclosure. These include physical, technical, and administrative safeguards.
Physical safeguards protect patient information from unauthorized physical access, destruction, or tampering. They include things like locked doors and file cabinets, as well as security cameras and alarm systems.
Technical safeguards involve using technology to protect patient information from unauthorized access. They include things like firewalls, data encryption, and password protection.
Administrative safeguards include things like employee training and security awareness programs.
If you want to outsource a medical call center, call Sequence Health. Our team of professionals is highly trained in handling PHI and is 100% HIPAA compliant. We will work with you to ensure your calls are handled in a way that meets all federal and state regulations.