The Big Medical Practice Website Checklist: Does Your Practice's Website Have Everything?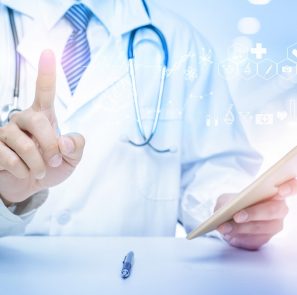 Your medical practice's website is one of the most important tools for your business. It can be used to relay information, keep patients updated, and even allow patients to schedule appointments with you directly online.
But not all medical practice websites have everything they need. In fact, a website that can't do everything that the patients need could cause the practice to be overlooked entirely. So what do medical practice websites need in order to provide the best possible experience for patients, while helping your business grow? Here's our checklist that you can follow.
Essential Elements for Medical Practice Websites
Patient Forms
Having downloadable and printable patient forms on your website is an excellent way to save you and your patients a great deal of time and hassle. It can also save you a fair bit of money and help make your operation a little bit more green.
News and Updates
If you're not using your website (and your social media profiles!) to post updates about what's going on at your practice, then you are using your website wrong. If there are any updates that could potentially affect patient care in any way, such as closures, reduced hours, new services, or new staff, it's on you to update your community.
Contact Information
A website serves many purposes. Chief among them is passing on information that allows patients to contact you. You should have an actively managed email address, a phone number, a fax number, and your address on your website visible on the footer of every page.
Patient Resources
Is there anything you can provide to make your patients' experience better or smoother? Can you provide information or resources for patients that need help? Your website is the perfect place to do that.
Services and Insurance
You need to make it clear on your website what services you offer. This way you can clear up a great deal of confusion about what you offer. Not to mention, you should also make sure that patients have a way to figure out whether or not your practice accepts their insurance.
Testimonials
People trust reviews more today than ever. Having testimonials on your website talking about how good of a job you did care for your patients, how good the overall experience was, and how much assistance the staff provided will make people feel a lot better about coming into your practice.
Maps
It's not enough to provide your mailing address: you will want to include a map of where your practice is located in your area. Using a Google Maps plugin is an easy way to do this, as it makes it easy for people to get directions to your practice as well.
Social Media Integration
Your website and your social media profiles are intertwined, and the whole is greater than the sum of its parts. Making sure that your website and your social media are integrated will make it easy for you to update people on social media about new content or new happenings at your practice.
Blog
A blog is not just a way to update your patients, but it's also a way to provide expert knowledge on subjects near and dear to your patients' hearts. Your practice is in a unique position to provide excellent content that really helps your patients, and your website is a great way to do this.
HIPAA Compliance
Last but absolutely not least, your website absolutely needs to remain compliant with HIPAA regulations. If your patient scheduling form collects any sort of protected health information (PHI), then your site will need to make sure that the collecting of this information is compliant.
Does Your Medical Practice Website Have All The Above?
If your site doesn't have everything, you better make sure to add it. Or, call us at Sequence Health, the healthcare marketing experts. We help medical practices like yours improve their digital presence, make it easier for patients to find and do business with you. Call us today!