The Difference Between Contact Center And Call Center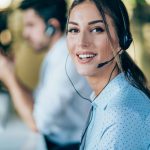 There is a lot of talk today about call centers and contact centers when it comes to medical services. While these two terms may sound very similar, they're actually fairly distinct in a couple of important ways.
As a manager or operator of a healthcare facility, you should know the difference between these two important concepts. That way you can continue to grow your staff, streamline your operations, and provide better services to patients while increasing revenues.
So let's talk about the difference between call centers and contact centers right now:
Call Center And Contact Center: Differences You Should Know
What Is A Call Center?
A healthcare call center is a place that has phone support for customer inquiries, resolutions, insurance verification and more. It can employ several people. Many agents take anywhere between 30 and 50 calls per day.
They may answer questions about billing, technical support, status updates, appointments and more. Typically they use a system like a CRM to help streamline this process. This way the patient gets a faster service with less errors.
What Is A Contact Center?
Contact centers have a more broad mandate. Typically they include several channels aside from just the phone.
So while they have a similar mission to call centers, they may include additional services such as email, live chat, social media, texting, messaging, video support and more.
For instance, at Sequence Health, we do have a call center, but we also technically have a contact center. This is because our agents use the best technologies and tools available to optimize patient services.
Which Is Better: A Contact Center Or A Call Center?
Any modern healthcare service should provide more than just phone agents. You have to take a multi-channel approach with a contact center if you want to reach patients in the way that's most convenient for them.
That way you capture additional market share, offer critical services faster, and ultimately improve the level of convenience for your patients.
This is going to result in improved outcomes, a better reputation for your center, and of course less stress on your staff. Read this post for more information on how medical contact and call centers improve your patient care quality.
Invest In A Great Medical Contact Center
Reach out to Sequence Health today. Our masterful healthcare call center agents know how to automate every aspect of your administrative tasks in your healthcare facility.
We'll help you manage inbound calls, outbound calls, appointments, insurance verification, and much more. When it comes to patient services, let the experts take your healthcare practice to the next level. That way you can create a safer world for your patients.