The Reasons For A Multilingual Call Center For Healthcare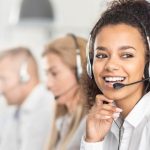 Any healthcare call center today needs to be able to address the needs of various patients living in multiple locations.
Your hospital should always be looking to improve its operations with regards to appointment setting, insurance verification, inbound, outbound calls and more. That being said, what is the importance of having a multilingual call center?
In this article, let's explore the reasons why healthcare firms should have a multilingual call center that enables you to continue to grow and serve as many people as possible.
The Multilingual Call Center Benefits For Healthcare
Eliminate mistakes
When someone doesn't speak another language well, they can make a lot of mistakes. For instance, if someone's second language is English but they are used to speaking their first language at home, when they speak with the call center agent, they may say something incorrectly.
This could result in medical billing mistakes, insurance mistakes, and many more serious things such as explaining symptoms wrong.
Quality patient care
If you're wondering why to choose a multilingual call center for healthcare, then the quality of care is one priority.
Ultimately, the quality of your care depends on being able to speak the same language as your patients. Whether they're rescheduling an appointment, updating a visit, or dealing with insurance, it's important to be able to speak clearly and effectively with your patients.
Speed up processes
Obviously, when two people don't speak the same first language, you can slow down the communication process. One of the most important parts of a medical call center is reducing costs and customer wait times. You can do this by ensuring you have multilingual agents on staff.
Improve affinity for your healthcare practice
If someone feels like you're really looking out for the best interests, they're more likely to return to your practice. Whether you follow a visit, surgery, or other type of therapy from your doctors, you benefit in multiple ways.
So by speaking someone's language, you can show that extra bit of care and patience for your patients. That ultimately is going to help you grow your firm.
Get A Multilingual Call Center Today
Reach out to Sequence Health now. We can equip you with multilingual agents. That way, you can address the needs of your patients and improve their outcomes no matter what they need.
By speaking more than one language, our call center can handle no matter what kind of calls you may have with your healthcare practice. You can have confidence you're choosing the best medical call center available.