The Top 5 Healthcare Contact Center Trends You Need to Watch in 2023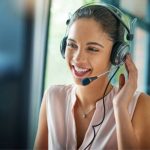 The contact center industry is constantly changing, and 2023 is no exception. If you're in the healthcare industry, staying up-to-date on the latest trends is essential so your contact center can keep pace.
Read more: Healthcare Marketing Trends to Help your Business Flourish.
With evolving CX demands, here are the top five contact center trends for healthcare in 2023 that you need to watch:
1. Integrated Omnichannel Experiences
Creating a seamless omnichannel experience is essential for healthcare providers, as it allows customers to access their desired service quickly and easily. Customers should be able to switch between channels without interruption or confusion.
For example, a hospital might have an integrated chatbot that allows patients to ask questions and book appointments.
2. Virtual Patient Experience in Metaverse
Metaverse is a virtual world where real-time interactions and activities happen. As healthcare contact centers look to expand their capabilities to meet the rising demands of patients, they will turn to Metaverse for a more personalized experience.
This technology allows contact centers to deliver virtual patient experiences with rich media elements such as 3D video/audio, interactive chatbots, and personalized avatars, all within a secure environment. This will enable healthcare contact centers to quickly and easily provide patients with the personalized care they need without compromising patient confidentiality or data security. As healthcare contact centers continue to move towards providing virtual patient experiences in Metaverse, there will be an increased focus on ensuring privacy and security protocols are met.
3. Conversational AI
Conversational AI is becoming increasingly popular in contact centers, and this trend is only expected to accelerate by 2023. Conversational AI leverages Natural Language Processing (NLP) technologies such as speech recognition, text-to-speech conversion, and intuitive understanding of customer inquiries to enable a more natural customer experience. In healthcare centers, this technology can help automate the resolution of simple customer queries, freeing up agents to handle more complex inquiries.
Additionally, conversational AI can provide quick and accurate information to patients, allowing healthcare centers to offer better patient care. For example, a patient may ask their virtual assistant questions about their condition or upcoming appointments.
4. Voice Biometrics in Hospitals
Voice biometrics is gaining popularity as an effective form of identity verification in the healthcare industry. This technology uses a person's voice to authenticate their identity instead of a traditional password or PIN. It offers several advantages, including accuracy and convenience. Voice biometrics also allows hospitals to verify patients quickly and securely, making it faster to process medical information and billing. It helps to reduce the risk of fraud or identity theft, as it is difficult to replicate someone's voice. As contact centers move away from manual authentication methods, hospitals will increasingly turn to voice biometrics for secure patient identification in 2023.
5. Integrated single-vendor UCaaS/ CCaaS adoption
Medical centers continue seeking ways to maximize resources and simplify operational complexities. As such, they are increasingly turning towards integrated Cloud Unified Communication as a Service (UCaaS) and Contact Center as a Service (CCaaS) solutions that provide reliable enterprise-grade communications and contact center functions in one package.
By utilizing an integrated single-vendor solution, healthcare contact centers can reduce the cost and complexity associated with managing multiple vendors while gaining access to a feature-rich platform that leverages integrated artificial intelligence (AI) capabilities. This could include real-time analytics for patient care, automating routine tasks, and improving customer experience.
Call Sequence Health for expert chronic care management. We use the latest contact center trends to ensure we provide the best service to our patients. In 2023, look for us to utilize AI-driven technology to improve patient outcomes by customizing care plans and forecasting health risks.