Why Use Geofencing in Healthcare?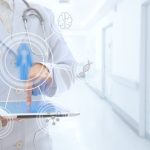 When it comes to healthcare call centers, you want to be able to promote your practice in your local area. This is especially true if you have specialty services. Geofencing is a certain tactic that can help you use data at a higher level based on local geographic area.
In this article, let's talk about what geofencing is and how health care practices can use it powerfully.
More Reading: Healthcare SEO Best Practices
What Is Geofencing In Healthcare?
Geofencing leverages location data from different mobile devices. This helps health care marketing advertise certain products or services only to people that are in that current geographic area.
When you add this to your marketing campaigns, it allows you to achieve better results while wasting less money. Certain forms of digital media like paid social, paid search, can help you target at the zip code or city level.
Using programmatic advertising like this, you can send various communications. For instance, you can send an email, a text message, or a push notification to people once they're in a certain area.
Common Questions About Geofencing
Does geofencing require an app?
No, you don't need to download a separate application to use geofencing. However, certain marketing platforms will allow it where others won't. Therefore, leveraging these apps isn't necessary.
When can you use geofencing?
You can use geofencing for virtually any geographic area.
You can do it very precisely, for instance, a few-mile radius, or you can do a larger metro area. You can even geofence around a health conference event, a building such as your medical center, and more. That's how you use geofencing for your healthcare advertising.
Benefits Of Geofencing In Healthcare
Generating leads
Use geofencing to generate leads that are local to your area. For instance, if you sell certain hospital equipment, you can look for local buyers.
Compare your advertising
Look where your competitors are advertising. You can put your promotions in the same neighborhoods as them to help you gain some of those clients or patients.
Marketing an event
If you're holding some kind of non-profit or any other type of event, you can use geofencing to target people who are near that location at that time.
Some Additional Benefits Of Geofencing
Geofencing has several benefits:
You can engage crowds better during events.
You can increase the foot traffic for local people in your market.
You can target people in certain areas that are more likely to use or be able to afford your medical services.
You can better understand your customers' behavior. It's more cost-effective.
Instead of wasting money on a shotgun approach, you can be very narrow with who you target and what you spend your advertising dollars on.
Use Geofencing Today
Contact Sequence Health today. Our expert healthcare digital marketing agents will help you understand how to use this powerful tactic to improve your call center, appointment making, and other communications services with your patients.