2018 Healthcare Trends We Expect for Marketing, IT and CRM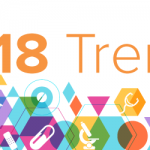 It's actually not that hard to make confident predictions about what will be the key trends for healthcare marketing and healthcare CRM in 2018, especially if you closely follow what's going on in the healthcare industry. The trick is to take a few moments to step back from daily observations and to try to find common themes that are emergent.
With that in mind, here are some trends we are anticipating for 2018!
Modifying Healthcare Marketing for Millennials
In 2018, healthcare marketing will take unprecedented steps to market healthcare to Millennials.
There's no reason to debate about the precise years for when this generation was born. The bottom line is most (if not all) Millennials are now solidly in adulthood, and that means they are the newest demographic in healthcare.
There's also no reason to discuss the finer points of what makes Millennials Millennials. All that needs to be said is they play by a different set of rules when it comes to how they make decisions and engage with brands—and this is a riddle healthcare marketers will be attempting to solve in 2018.
More Mobile-First
In 2018, healthcare marketing and IT will take unprecedented steps to adopt "Mobile-First."
We're now in an era where it's not enough to say "mobile healthcare" will be a trend. That's already happened. In our most recent blog, "Five Key Mobile Website Design Tips for Hospitals and Clinics," we touched on the subject of "mobile-first" as it relates to a major Google shakeup for healthcare SEO, and you can expect for us to talk more about this in 2018.
Even if you aren't familiar with the concept, the "mobile-first" term isn't hard to discern: It's the best practice of prioritizing mobile technologies over others.
For SEO, it means search engines will first look to the mobile version of a Website to determine who gets the best SERP (search engine results) rankings.
Mobile-first isn't just about SEO though. Virtually anything that is part of a patient's mobile device UX (user experience) — social media, apps, widgets, videos, etc. — will need to look and feel like it was a priority and not an afterthought.
IoT, mHealth and Telehealth Waits for Cybersecurity Improvements
In 2018, healthcare IT will take unprecedented steps to improve cybersecurity and open more doors for new medical technologies that can radically improve outcomes and revenues.
We are also in an era where healthcare is grappling with with having both too much and too little—and it's potentially stalling something great advances in healthcare.
First, there's too much access to patient information. On one hand, that's wonderful—and it ties in nicely with more and more patients using the Internet (especially mobile devices) to find healthcare providers, engage with caregivers and improve their outcomes.
On the other hand, access and information has put many hospitals at risk because there's too little cybersecurity. (Unfortunately, the "ransomware" trend from the past couple years is probably going to continue in 2018.)
Meanwhile, the medical device industry is aching to exploit the vast advantages of IoT (Internet of Things), mHealth (mobile health), telehealth and other platforms that can have monumental benefits for healthcare, both in terms of providing more and better care while reducing costs.
The conflict is with how these innovative devices need access to all of that information—on largely underprotected networks. As a result, their potential is not being fully leveraged, which in turn slows continued innovation.
For those reasons, you can be assured the healthcare and medical device communities will be putting significant effort into improving cybersecurity in 2018.
---
As Sequence Health's Central/Western Regional Director, Chris Stearns is one of our most reliable resources for awareness of what is going on in our industry.
Sequence Health is a cloud-based technology and services company that improves profitability and patient outcomes for hospitals and practices through end-to-end patient engagement solutions backed by clinical and non-clinical teams. Its HIPAA-compliant, SaaS platform improves care team workflows, automates patient communication and tracks patient progress to optimize the patient journey. Since 2004, leading healthcare providers have trusted Sequence Health to help acquire, manage and engage patients through complex episodes of care.