5 Ways to Get Your Own "Best Healthcare Website"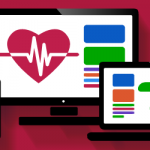 5 Ways to Get Your Own "Best Healthcare Website"
We are frequently approached by hospitals and clinics that want to know how they can have the "best healthcare Website" or how their Website currently compares on a national, regional or local level to top healthcare Websites. Although we can use tools that deliver quantifiable answers for the latter—including Google Analytics and Alexa—they aren't as useful for answering the former.
Do a Google search for "best healthcare Website" and you will see hundreds of results for blogs, awards and other pages. Although many provide solid references for what a "best healthcare Website" might look like, they usually don't give you the guidance to get your Website into the same class.
Having a slick-looking, modern Website is always nice, but there's much more to having a top medical Website. For example, the ever-popular Mayo Clinic's Website might be regularly rank high on many "best healthcare Website" lists, but it doesn't mean your hospital or clinic should make a duplicate version. Instead, you need a Website that not only looks great, but is great because it performs and functions for specific reasons.
Here's an easy and remarkably practical method for getting your Website onto a path that will at least improve its appearance and performance—and perhaps someday land you on somebody's "best healthcare Website" list. The process borrows from the "five W's" problem-solving technique ideal for becoming more aware of your Website's strengths and weaknesses.
Who is Your Audience?
Your immediate response might be, "Well, duh, our patients!"
But seriously, think about it: How well do you understand the background of your audience—which, yes, are your patients? This includes a matrix of:
• Age
• Gender
• Culture
• Income
• Insurance and payment mixes
• Geography and proximity
• Medical priorities and needs
With those points, you should develop some abstract profiles of your audience.
Now visit your Website and take an honest look at all of it—photos, content, function, etc. How well does your Website look or feel relates to who your patients actually are or what they want from you?
Takeaway: If your Website doesn't reflect the makeup and needs of its audience, you will want to consider updating your content to be more representative.
What Does Your Website Need to Be or Do?
Now that you've thought about who your audience is, take it one step further: What do they need from it? This may include:
• Appointment scheduling
• Patient portals
• Physician and specialty searches
Or conversely, think about your Website and what your audience doesn't need from it? This includes:
• Slow loading times
• Outdated or obsolete plugins
• Unresponsive design/no mobile version
Takeaway: If your Website's technologies are not delivering the performance and convenience your patients expect, you'll want to think upgrading or replacing your Website's architecture or platform.
Where are Viewers Finding or Using Your Website?
If you regular follow this blog, you'll already know the tremendous importance having a mobile-friendly healthcare Website.
This is related to a simple fact: a majority of healthcare Website visitors visit on their mobile devices. Google's recent mobile-first update (which uses the mobile version of a Website to determine keyword rankings for searches) has reinforced this concept and is already causing massive shifts in search engine result pages (SERPs).
Takeaway: If you aren't looking at your Website metrics at least once a month, you should immediately make it part of your routine. The more engaged you are with your metrics, the more inclined you'll be to improve your Website.
Even if you don't have a strong healthcare SEO strategy, you still should be using Google Analytics to look at your healthcare Website metrics to learn as much as you can about your patient's online visiting habits, routines and more.
Why Do You Have a Website?
This should actually be the first question in this list because it's also the most important. Give it a moment and think: What's the point of having a Website for your hospital or clinic?
You will likely be flooded with numerous reasons why you have a Website, and most reasons will probably relate to the first question about "Who is your audience?" This is because the most important reason you have a Website is to improve patient experience—which in turn leads to more appointments, surgeries, etc., as well as better outcomes.
It at that point you must ask yourself: If you can define crucial reasons for why you have a Website, what are you doing to ensure your Website fulfills those reasons?
Takeaway: If your Website isn't living up to its expectations, it's time to revisit your marketing plan, pinpoint its objectives, and then start developing a strategy to improve your Website. You will likely discover you either have the internal resources or you don't—in which case, you will want to find a proven medical Website design and development partner to help you in your quest towards having a "best healthcare Website"!
---
As Sequence Health's Website development leader, Tonni Islam is one of our most reliable subject matter experts.
Sequence Health is a cloud-based technology and services company that improves profitability and patient outcomes for hospitals and practices through end-to-end patient engagement solutions backed by clinical and non-clinical teams. Its HIPAA-compliant, SaaS platform improves care team workflows, automates patient communication and tracks patient progress to optimize the patient journey. Since 2004, leading healthcare providers have trusted Sequence Health to help acquire, manage and engage patients through complex episodes of care.