Animated Explainer Videos for Healthcare Businesses: How They Benefit and Examples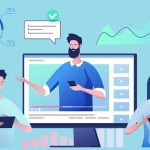 Healthcare businesses have a lot of competition. To stay ahead, they need to use every tool at their disposal. Animated explainer videos are one such tool that can be highly beneficial for healthcare businesses.
They can help you educate patients, attract new customers, and increase brand awareness. Learn how animated explainer videos can benefit healthcare businesses with examples.
1. Educate Patients About Their Conditions and Health Issues
According to Statista's study, the North American healthcare AR and VR industry was worth 477 million dollars in 2018. By 2028, this will rise to an astounding 9.42 billion dollars.
Healthcare businesses should consider using animated explainer videos to educate patients about their conditions. These videos can provide an overview of a condition, its symptoms, and potential treatments.
Animated explainer videos can also educate patients about healthy lifestyle choices. For example, a video could be created that explains the importance of exercise and healthy eating habits.
2. Attract New Customers By Showcasing What Your Business Will Offer
Animated videos for healthcare marketing are a great way to show off what your business can offer potential customers. By highlighting the unique features and benefits of your services, you can attract new patients and convince them to give you a try. For example, if you're a chiropractor, you could create an animated video that explains how your treatments can relieve pain and improve mobility.
3. Increase Brand Awareness and Help You Stand Out from the Competition
By using a high-quality, engaging video, you will be able to reach a wider audience and get your message across more effectively.
There are several ways to use explainer videos to increase brand awareness, including:
Uploading the video to your website or blog
Sharing the video on social media platforms such as YouTube, Facebook, and Twitter
Embedding the video in email newsletters
Including the video in presentations or pitches
4. Communicate Complex Information in an Easy-To-Understand Manner
Some complex medical conditions like cancer or Alzheimer's can be difficult for patients and their families to wrap their heads around. Using an animated explainer video, you can take complex information and break it down into manageable pieces that are easy for people to understand.
Read more: Why Hospitals & Practices Should Use Video: Reasons To Use Medical Video Production.
5. Improve Conversions and ROI
Lastly, good explainer videos help increase conversions and ROI for healthcare businesses. A strong CTA can guide viewers on what to do next, whether signing up for your newsletter, attending an event, or purchasing a new product or service.
Sequence Health offers the best medical video production services. We can help you produce an animated explainer video that will benefit your healthcare business in many ways.