April is National Minority Health Month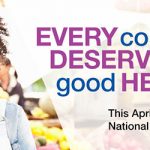 "Education is the most powerful weapon which you can use to change the world." – Nelson Mandela

Thanks to the exceptional team at MDnet, we can help our clients improve education as well as access to health care for minority populations and across cultural barriers that otherwise restrict access to care.
Celebrating Dual Language Video Production from MDnetSolutions
The MDnetSolutions production staff recently worked with a new client to better reach the minority patient population in the surrounding communities. Going beyond traditional voiceover translation of the English version, the MDnet team led the full on-site production of English and Spanish versions of the Online Seminars (OLS). Working directly with the team from Doctors Hospital at Renaissance, the MDnetSolutions team took on the request to offer more than the traditional translation services.
Senior Producer Karen Haft shared insights with the rest of the team on the opportunities of taking on the task, "DHR decided early on that we needed to shoot two seminars, one in English and one in Spanish, to reach the mostly Hispanic patient population. Without being fluent in Spanish, I had to rely on the crew members and support staff who were fluent in Spanish to help determine the right context of the surgeon's delivery."
"I found it really interesting that often I could tell when the surgeon's tone was warm and reassuring even though I am not fluent in Spanish. That goes to show how much communication is universal. The entire experience was so positive" said Karen. "It was a great team effort; the surgeons were appreciative of the support from the crew because they knew it would make their seminar that much better."
"On location, we discussed using Spanish voice translation for the English speaking surgeons. Interestingly enough, the crew said using subtitles would be better because the Hispanic population is used to seeing subtitles in movies, so that's what they prefer. The crew offered invaluable feedback and insights I can bring to future projects."
This exciting milestone paves the way for MDnet to offer better customer service to clients serving minority patient populations.
---
Did you know… MDnetSolutions offers multilingual services, including translation and subtitles, for many of our engagement solutions:
The focus on patient education, engagement and intervention allow MDnet to partner with our clients to address the issues highlighted by this year's National Minority Health Month theme, "Prevention is Power: Taking Action for Health Equity."
Visit our social media pages to share your experience in taking action to improve care for minority health populations. #minorityhealthmonth